Surface Book vs Surface Pro 4: Which You Should Buy
Microsoft's Surface line of computers changed the Windows hardware landscape forever. It's latest incarnations, the Surface Book, Surface Studio and Surface Pro 4, are some of the best convertibles ever created. Particularly, Surface Book and Surface Pro 4 have changed the way we see portable computing. Your notebook and tablet need no longer be separate things. You can buy one machine that'll let you do things only a single device would have let you do before.
Deciding which Surface device to purchase for your needs can be tricky though. The Surface Pro 4 is more tablet than notebook PC. It's aimed at a specific type of user, one that doesn't need a lot of horsepower to get through their day. By comparison, the Surface Book is first a notebook. It has its own unique set of pros and cons, chief among them being battery life and performance.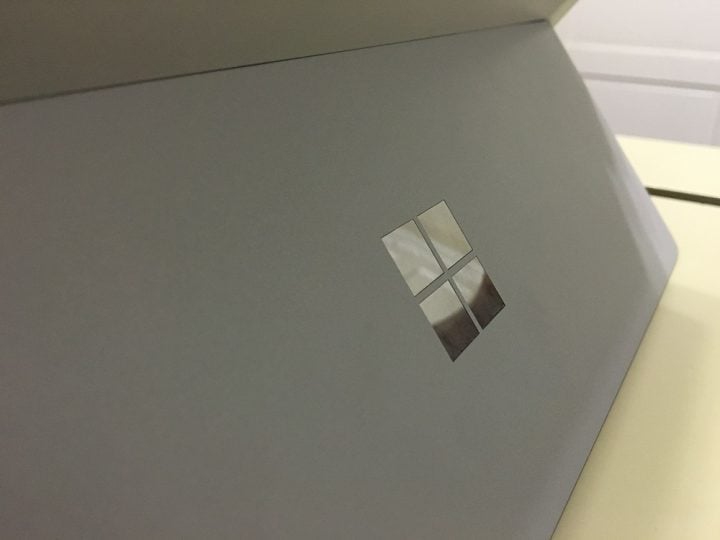 If you're looking to buy a Windows PC right now, there's hardly anything out there better than the Surface Pro and Surface Book in their respective categories. You should absolutely consider one. Which Surface you buy is a more complicated matter entirely.
Surface Book vs Surface Pro 4: Differences Inside & Out
The Surface Book and Surface Pro 4 are made of the same slick magnesium material, only they aren't painted black like older Surface devices. Each uses the same Surface Connect port, display technology and nearly all the same accessories.
As a notebook first, the Surface Book has a full-size keyboard and 13.5-inch 3000 x 2000 pixel display. Microsoft calls the screen portion of the Surface Book a clipboard because it can be detached from the rest of the notebook with the press of a button. Detaching the display, flipping it around and attaching it backwards is called Draw Mode. It allows you to get a better angle when taking notes or illustrating. The headphone jack and a Surface Connect port are both on the clip board.
Surface Book Advantages
More robust processor.
Optional dedicated graphics processor.
Bigger display.
More ports.
16 Hours of Battery Life When Watching Video and Connected to the Surface Book Performance Base
Read: Microsoft Surface Book Impressions
Two USB 3.0 ports, Mini-DisplayPort, a second Surface Connect port and a media card reader are all on the base. Depending on which model users purchase, the base can also have a dedicated graphics card. $1,499.99 gets shoppers a Surface Book with 8GB of RAM and an Intel Core i5 processor. That's the least expensive Surface Pro 4 available.
The Surface Pro 4's design is well-worn territory. It looks like a tablet with a kickstand built into it, which is exactly what the company wanted. Inside is a 12.3-inch display with a resolution of 2736 x 1824 pixels. Microsoft doesn't include the Surface Type Cover with the device, but the company does include the same Pen that's bundled with the Surface Book.
Surface Pro 4 Advantages
Only weighs 1.69 or 1.73 pounds compared to Surface Book's 3.63 pounds.
9 hours of video playback on its own, compared to the 3 hours Surface Book offers without being connected to its base.
Smaller footprint makes it easier to manage.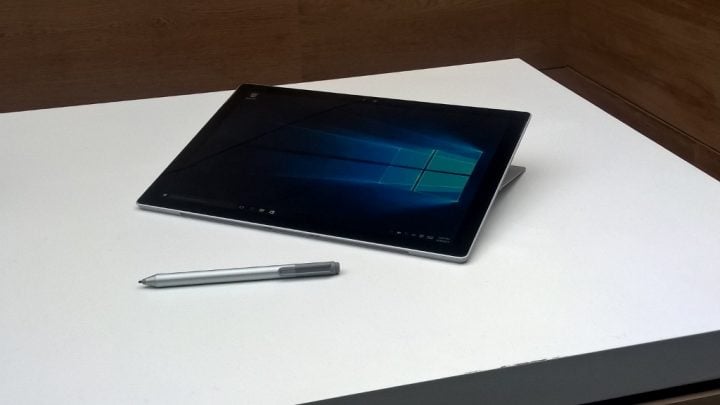 Because it's meant to be as mobile as possible, the Surface Pro 4 only offers a Surface Connect port, 1 USB 3.0 port and 1 Mini DisplayPort. An expansion port along the bottom lets users snap in the keyboard cover. Buyers can elevate the keys to a comfortable level using built-in magnets.
Read: Surface Pro 4 Review: The Best There Is
Microsoft sells the Surface Pro 4 for as little as $799 with an 4GB of RAM, Intel Core M3 processor and no Surface Pen accessory. Versions that cost more add an Intel Core I processor and more RAM. Microsoft doesn't have an option for any sort of discrete graphics card with the Surface Pro 4.
Surface Book vs Surface Pro 4: What to Buy?
Who Should Buy a Surface Pro 4?
That missing graphics card option gets to the heart of what the Surface Pro 4 is. It's a notebook replacement, but only for those that didn't have very robust notebook needs in the first place. It's for those that like the Apple MacBook, with its thin profile and barely noticeable weight. Thanks to its support of both Windows Store apps and classic programs, mobile-first users aren't compromising on much with the Surface Pro 4, except ports.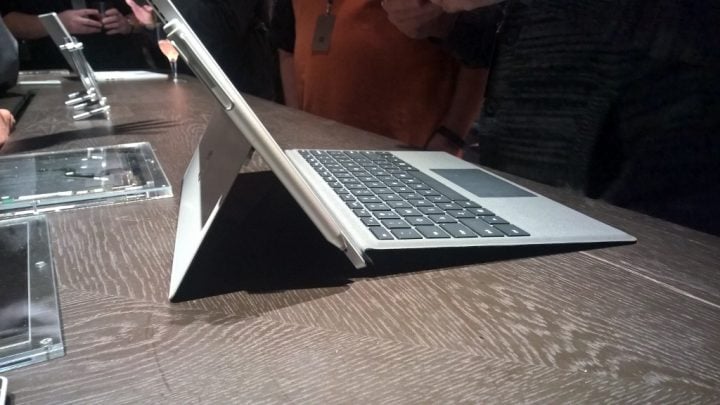 Read: Which Microsoft Surface Pro 4 Should You Buy?
People in these categories would do well to look into the Microsoft Surface Pro 4:
Students with course work that doesn't demand detailed graphics rendering and video editing.
Small businesses with light computing needs.
Teachers.
Casual PC users who spend most of their time in a Web Browser.
Anyone that wants a Windows 10 tablet.
When settling on a Surface Pro 4, remember to choose the model that has the right internals for what you need. The more RAM you have, the more apps your Surface can comfortably open at a time. Pay attention to processors and storage too. If you even think that you might need to frequently edit pictures or media, the Surface Pro 4 with Intel Core M3 processor is not for you.
Read: Surface Pen Tips for Surface Pro 4 and Surface 3
Who Should Buy a Surface Book?
The Surface Book is often described as the best option for those that want a notebook. Certainly, their hardware keyboards and port line-up make them able to fill roles more traditionally held by notebooks, but they can act as multimedia tablets like the Surface Pro 4.
The Surface Book's large display is great for drawing and watching videos, but it may be too unwieldy for some looking to get a traditional tablet experience. There's no kickstand for propping up the clipboard on its own, though Microsoft does have that Surface Connect port there for charging just it.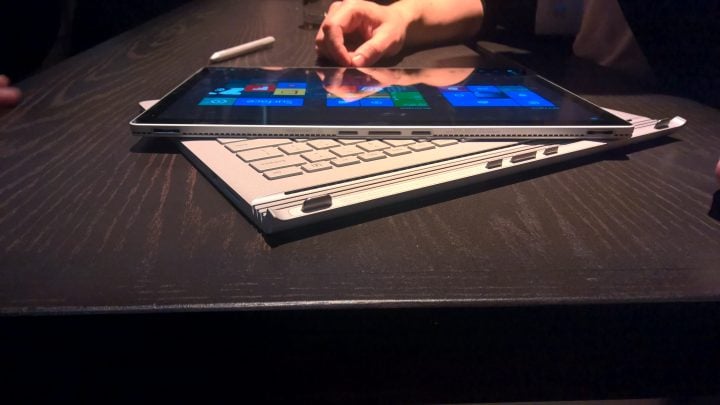 For those creating music and video, playing games or demanding computing needs at work, the Surface Book is the best choice. It may even be the best Surface overall. Microsoft offers configurations with up to 16B of RAM and an Intel Core i7 processor. That's on top of the discrete graphics processor option.
These people should consider the Surface Book:
Gamers
Light tablet users
Artists that need lots of screen real-estate
Media professionals
Those that prize a traditional keyboard & ports
Good luck deciding on your next Surface Windows 2-in-1.

As an Amazon Associate I earn from qualifying purchases.