Surface Deal Has Big Surface Pro 4 Savings for Upgraders
This holiday season, potential Surface Pro 4 buyers can save a fortune thanks to a new deal at Microsoft's website and its local stores. This new Surface deal gets shoppers as much as $700 back when they purchase a Surface Pro 4 and trade-in their old device.
Microsoft quietly added this new Surface deal to its website recently, it seems. The Surface Pro 4 and Surface Book were announced at a Windows 10 devices event back in early October. The Surface Pro 4 is a tablet that can replace a notebook thanks to its kickstand, Intel processor, large display and attachable keyboard accessory. The Surface Book is a high-end notebook PC that has a detachable display for use as a tablet. The Surface Pro 4 starts at $899. The Surface Book starts at $1499.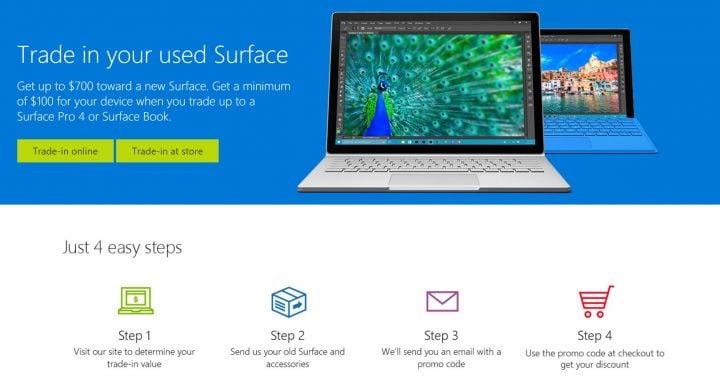 "Get up to $00 toward a new Surface," the promotional page for this new Surface deal teases. Unlike the earlier deals that Microsoft offered to those willing to trade-in their PCs, this is specifically for its latest Surface devices. Shoppers interested in taking advantage of the deal sign-up through the promotional website, then mail off their old Surface devices. Microsoft looks over the device and sends shoppers a promotional code that they can use to immediately get a discount on their Surface Pro 4 or Surface Book purchase.
All told, it's a pretty nifty deal. It's more straightforward then the trade-in programs that Microsoft has offered in the past. They forced users to make a purchase first, then receive credit back for the items that they traded-in. The company is even accepting some Surface Type Cover and Surface Touch Covers in this trade-in deal. Old Surface docks, pens and cables aren't eligible for credit in this Surface deal too.
The general rule with this Surface deal is that newer devices with more storage get shoppers closer to that $700 discount that Microsoft is teasing. Last year's Surface Pro 3 with a Type Cover and 64GB of storage gets shoppers $350 in discounts toward a Surface Pro 4 or Surface Book. The deal tops out with a Surface Pro 3 that has an Intel Core i7 processor and 512GB of storage. Everyone gets at least a code for $100 off for any Surface that they trade-in in working order. A Surface 3 with 64GB of storage gets shoppers a $250 code for their new Surface purchase.
Be warned, Microsoft doesn't seem to take a keyboard trade-in into account when calculating trade-in value. As such, it's probably a better idea to sell off old Type Cover's separately on eBay or Craigslist. Covers for the Surface Pro 3 are compatible with the Surface Pro 4 too. So switching between those devices are better off keeping their old keyboard accessory. The new Surface Pro 4 Type Cover is better than the version that launched with the Surface Pro 3, but savings is savings.
To take advantage of this Surface deal, users need to have a device that's in working order and has a charger. What's more, the device needs to hold a charge and be cleared of all personal data and user accounts. Users who send in devices that don't meet that criteria won't get the promotional code they need to get their discount on the Surface Pro 4 and Surface Book.
The Surface Book is a new category for Microsoft. The company committed to designing high-end devices years ago, but it stuck to tablets. Surface Book is a notebook with a detachable screen that lasts for three hours on its own. It has no kickstand or USB port built-into its display. Some versions have a discrete graphics processors hidden in their base. The Surface Book switches to that graphics card when connected to its magnesium base.
Microsoft says that this Surface deal will only last until December 20th.

As an Amazon Associate I earn from qualifying purchases.