Surface Pro 2 vs Surface Pro 3: What To Buy
Microsoft shocked the world, and its own hardware partners, when it revealed the original Surface tablets. Dubbed the Surface RT and the Surface Pro, those original devices came at a time when both customers and other companies were still trying to adjust their thinking to reflect the steps this new Microsoft was willing to take to be a part of the next revolution in mobile computing. In many ways though, the tablet Microsoft revealed at an event last month, the Surface Pro 3, is a better reflection of its commitment to building its own hardware than earlier tablets.
That's because the Surface Pro 3 is the first major hardware redesign that Microsoft has released since it started making its own tablets, and comparing the Surface Pro 2 with the Surface Pro 3 makes that clear.
Surface Pro 3 vs. Surface Pro 2 – Hardware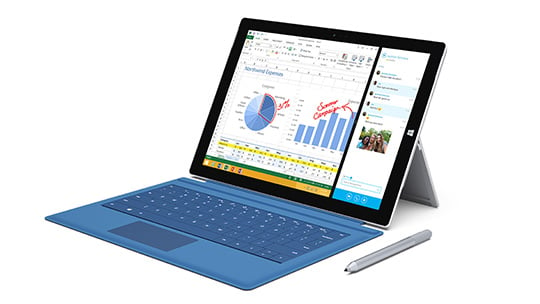 With the exception of some familiar flourishes and ports, like the accessories port and kickstand, the Surface Pro 2 and the Surface Pro 3 look like they were made by two different companies – albeit two different companies looking over each other's shoulders.
The Surface Pro 3 isn't a dark, sharp-edged mass in the same way the Surface Pro 2 is. It comes in an unpainted metal design that still looks and feels premium. On its right edge is a new power-port, a Mini Display Port for connecting a second monitor and a single USB 3.0 port. On the left edge there's the device's headphone jack and volume buttons. At the top is the Surface Pro 3's power port.
The Surface Pro 3 comes equipped with a spacious 12-inch high-definition display, completely demolishing what's available in the 10-inch Surface Pro and Surface Pro 2. Really, the key to Microsoft's reimagining of what the Surface Pro can be comes down to that screen size. Bumping it up makes the tablet feel, and act, like more of a laptop and tablet replacement. That bigger screen has also allowed Microsoft to more easily distribute the components inside the Surface Pro 3. As such, it's ridiculously thin at just .36 inches. Whereas the Surface Pro 2 was a solid 2 pounds, the Surface Pro 3 is about 1.8 pounds.
Surface Pro 3 vs. Surface Pro 2 – Internals
To put it simply, users who liked the idea of an all-in-one notebook and tablet are going to get a better all-around experience with the Surface Pro 3 based on its internals alone. That 13-inch high-definition display from earlier? It has a resolution of 2160 x 1440 pixels compared to the 1920 x 1080 resolution the Surface Pro 2 has.  That might not sound like much, but pictures and video are going to look even sharper on the Surface Pro 3 than they do on the Surface Pro 2. This change also gives the Surface Pro 3 a 3:2 aspect ratio. Surface Pro 3 users will get a black bar when watching videos, but when they're doing anything else it'll feel more like the laptop replacement it's intended to be.
The Surface Pro 3 is a laptop replacement. So is the entire Surface Pro product line, and that's why it has always featured Intel processors. Having an Intel processor and Windows means that users can install their favorite Desktop applications like iTunes and so forth. The Surface Pro 3 features the same fourth generation Intel Core i5 and Core i7 processors as the Surface Pro 2, but Microsoft is making the base model a Intel Core i3 version available for value seekers too.
That difference in processors reveals another change in the way Microsoft sees the Surface Pro line. Previous versions only came in a few configurations. This Surface Pro 3 comes in five different versions with slightly different processors and different amounts of storage.
Potential buyers win because storage options now range from 64GB all the way to 512GB. Surface Pro 2 upgrades lose because that base model, the one Microsoft is listing at $799, will include the Intel i3 processor instead of the Intel Core i5 processor that was included in the cheapest version of the Surface Pro 2.
In giving new users choices, Microsoft is also introducing some confusion for upgrades. To be clear, those who have a Surface Pro 2 and want to upgrade should pick up the Surface Pro 3 with 128GB of storage and an Intel Core i5 processor to mimic the experience they're getting already.
Battery life is always a big concern for potential buyers of any mobile device and the Surface Pro line is no different. In situations where the Surface Pro 2 got users around 8 hours of battery life, Microsoft says users should expect 9 hours of web browsing out of the Surface Pro 3. As such, upgrading the Surface Pro 3 won't mean that users can stay away from their desks any longer than they could before.
In the Surface Pro 2 Microsoft responded to the feedback it got about the original devices front and rear-facing cameras. At the time it boosted each camera's resolution and tweaked its Camera app. In the Surface Pro 3 Microsoft is bumping these cameras up to 5 megapixelsensors with a resolution of 1080p. As a user of the original Surface Pro cameras I can attest to just how awful they were and how big of a leap these new 1080p cameras are.
Surface Pro 3 vs. Surface Pro 2 – Extras
In many ways, including its processor configurations and storage, the Surface Pro 3 is a repackaged Surface Pro 2. Novice users will likely notice that new spacious 12-inch display and think that the Surface Pro 3 is just a small update with a larger screen.
They'd be right if it weren't for the changes that Microsoft made to many of the Surface Pro's most iconic features.
It might seem crazy, but the original Surface's kickstand was revolutionary when it debuted. Here was this tablet that users didn't have to run out and buy ridiculous cases and clumsy accessories for just to watch video without their hands getting tired. That first Surface kickstand only had one position and Microsoft added a second with the Surface Pro 2. With the Surface Pro 3 Microsoft is taking off the training wheels. Users are free to adjust the Surface Pro 3 to whatever angle their situation calls for.
Along with that kickstand, Microsoft also rethought the Surface Pro's other iconic feature: the Type Cover. In addition to it being larger to cover the Surface Pro 3's entire screen, the Surface Pro Type Cover includes a wider trackpad with better buttons.. Using it on a desk remains the same, but the Surface Pro 3 also includes a magnets that lock the keyboard into place. The idea is to make the Surface Pro 3 better for using in a lap. Unfortunately, one of the biggest issues facing the entire Surface line is still a part of the Surface Pro 3 equation. The Surface Pro 3 starts at $799 but still doesn't include the Type Cover. That means users still have to spend another $129 for an accessory Microsoft showcases in its Surface commercials.
Finally, there's a new Surface Pen to compliment the Surface Pro 3. Pressing a button at the top of that new aluminum-clad Surface Pro 3 pen quickly takes users to Microsoft's OneNote note-taking app. This is the same app that makes notes available on Windows desktops, the iPhone and Android. It'll come included with the Surface Pro 3, but buying an extra will cost users $40. That's $10 more than the pen that Microsoft released for the Surface Pro 2. Microsoft says this new Pen "feels more like a real pen." Unfortunately, the Surface Pro 3 doesn't include a place to store that "real pen" inside of its body. Instead users have to store it in a loop attached to the Type Cover or the body of the Surface itself.
Conclusion
Overall, whether current Surface Pro users should upgrade remains a toss-up – especially for those who already have a Surface Pro 2. The Surface Pro 3 is just another iteration of the original with some key upgrades. Users aren't going to get much more battery life than they get with the Surface Pro 2. That being said, Microsoft has fixed many of the key problems from past generations. That makes it a worthy upgrade.

This article may contain affiliate links. Click here for more details.