Surface Pro 3 Impressions: Has Microsoft Succeeded Where Apple Failed?
Microsoft's latest tablet is hoping to succeed where Apple has so far failed. It's thin and light so that it can be used as an entertainment tablet. It also includes an Intel processor for running serious applications. In many respects, it's the closest we come to not having to carry around a laptop for getting work done and an iPad for quickly checking emails.
There are plenty of new things here too. The Surface Pen that allows users to take handwritten notes is now thicker and able to open the OneNote note taking application with a single button push. The Surface Type Keyboard accessory has been revamped with an extra magnet to make it easier to lock into place. There's even a wider trackpad so that carrying around an external mouse is no longer a requirement.
Better Hardware
Many have said that Microsoft's idea for the Surface Pro has been, and always will be, misguided. These people are right, but they're also wrong. Don't misunderstand, they're wrong in so much as the Surface Pro 3 is the real deal. They're right because past devices didn't necessarily live up to Microsoft's stated goals for the Surface line. This device does.
You realize how misguided Microsoft was with past Surface Pro devices the moment you pick up the Surface Pro 3. The Surface Pro felt premium, but the Surface Pro 3 feels and like something Apple would have made. It's incredibly thin, so thin that it makes smartphones feel thick by comparison. The Surface Pro 3 only measures .36-inches from front to back.
It's also more attractive thanks to Microsoft's decision to drop the black paint that previous devices came covered in.
Despite the completely redesigned exterior, the Surface Pro 3 is still an Intel-powered laptop where it counts: inside. This means that the device still allows users to run desktop and Windows Store apps along with each other. There's still that single USB 3.0 for connecting to printers, keyboards and cameras too.
During my brief time with the device it seems like Microsoft made all the right decisions where the core hardware is concerned. This thinner, lighter package feels more sophisticated, more capable and less of a compromise – depending on the version. The Surface Pro 3 launching this month comes with 128GB of storage and 4GB of RAM and an Intel Core i5 Processor for $999. Two more powerful versions with more RAM, storage space and a higher price tag will launch in August. Alongside those units will be a Surface Pro 3 with 64GB of storage space, 4GB of RAM and an Intel Core i3 processor at $799. That version with the Core i3 Processor will still be plenty powerful, just not as powerful as the entry-level Surface Pro 2 that Microsoft is selling for $799 today.
Better Extras
Microsoft talked a lot about the extra upgrades that it packed in the Surface Pro 3 during its press event. It's hard to not notice that these small refinements are what actually makes the Surface Pro 3 an iPad and laptop replacement.
A stylus is a stylus until you've used the Surface Pro 3's included pen. Microsoft says its more accurate than the old Surface Pen and I'm sure they're right, but it's the pen's heft and weight that users will respond to. Writing feels more comfortable and taking notes is crazy easy thanks to that button that instantly opens Microsoft OneNote. Whether the batteries the pen requires to pull all of this off last a very long time will be interesting to see.
There's also a new hinge that allows users to position the tablet for a better viewing angle. Bulky cases with bright colors and expensive price tags need not become an issue for Surface Pro 3 users.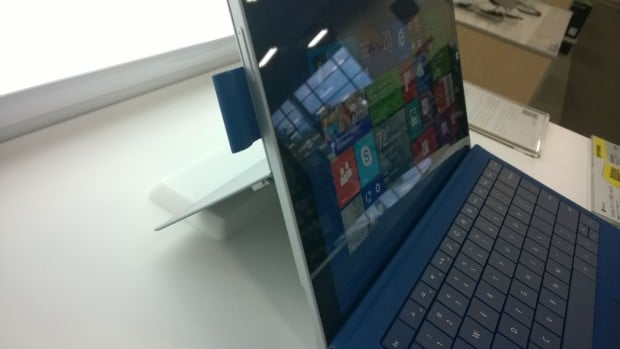 Also, that refreshed Surface Pro Type Keyboard may have a wider trackpad, which feels way better when browsing the internet, but it's still sold separately from the device itself. That means users have to factor in an extra $130 into the Surface Pro 3's purchase price. That Microsoft continues to show the Surface Pro 3 in commercials with the keyboard but not include them together on store shelves remains a bit questionable.
When users spend time with the Surface Pro 3 they'll likely come to the same conclusion I have. The Surface Pro 3 is truer to Microsoft's initial Surface vision than any previous Surface Pro was, and is arguably the best Windows 2-in-1 on the market. So far, the refinements are appreciated and make for a better experience. Far more importantly, they deliver on the dream that one day, users won't have to carry around multiple computing devices to live their lives.

As an Amazon Associate I earn from qualifying purchases.