Surface Pro 3 Pre-Orders: 3 Things Buyers Need to Know
Most may have thought Microsoft was being ambitious when it originally unveiled the Surface Pro and Surface tablets back in 2012. With the Surface Pro 3 that the company announced today, Microsoft seems to have in higher ambitious that its original tablet replacement mission.
Microsoft isn't being shy about why it created the Surface Pro 3. In seeing how people used the Surface, Surface Pro 2 and the iPad, Microsoft says that it noticed that users tend to compromise. In fact, Surface head Panos Panay indicated that the company's original line of devices were planned as tablet replacements rather than laptop replacements, hence their smaller screen size.
Make no mistake, the Surface Pro 3 doesn't share those design attributes. Microsoft has ditched the Surface Pro 2's entire form factor and the Surface Pro 3 is a larger, yet thinner and lighter tablet. On its front is a 12-inch display instead of the 10-inch display that dominated the older devices. There are lots of little added extras that make the Surface Pro 3 the perfect laptop and tablet replacement for users who simply want to carry one device instead of two.
Read: Microsoft Surface Pro 3 to Take on the Macbook Air for $799
Here's what buyers need to know before picking up the Surface Pro 3 on June 20th or pre-ordering the device on May 21st
Pricing & Models
Microsoft spent its entire press conference referencing the Surface Pro 3 as if it's a singular model. As it turns out that's not the case.
The Surface Pro 3 will come in five different versions with five separate price tags. The base model is the Surface Pro 3 at $799. It includes an Intel Core I3 processor and 4GB of RAM. Users who purchase it will only have 64GB of space for storing music, movies, documents and apps. At $999 is the Surface Pro 3 with an Intel Core i5 processor, 128GB of storage and 4GB of RAM. Another Surface Pro 3 model with an Intel Core i5 processor, 8GB of RAM 256GB of storage space will cost users $1,299. It's those devices that will closely compete with laptops like the Dell XPS 13 and MacBook Air.
There are two more models that compete specifically with professional laptops like the MacBook Pro. There's the Surface Pro 3 with an Intel Core i7 processor, 256GB of storage space and 8 GB of RAM for $1,949. A version of that tablet with 512GB of storage will cost users $1,949.
Microsoft has confirmed that a charger and a next-generation Surface Pen will be included with the Surface Pro 3. That being said, Microsoft has also confirmed that buying an additional charger will cost users $79.99 and an additional Surface Pen will cost $49.99 each.
Upgrading & Purchasing New Accessories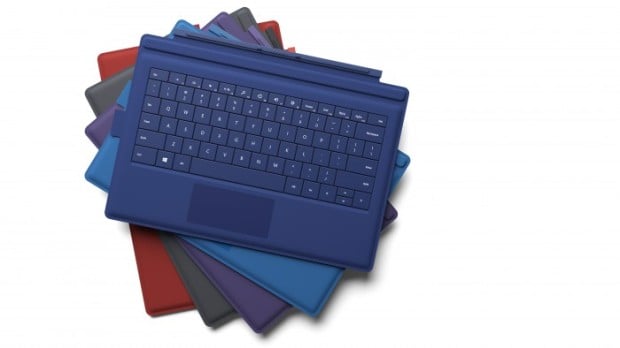 When Microsoft first announced the Surface line it also showed off two keyboard accessories that were supposed to help them bridge the gap between laptop and tablet. Dubbed the Type Cover and Touch Cover, the first versions were great when compared to using an on-screen keyboard. That being said, they did have issues.
First, they couldn't really be comfortably used in the lap. Even today, Microsoft insists that this isn't true but it is, specifically if users have a Surface device with a kickstand that locks into a single position. The second and arguably, bigger issue is that the trackpad on the Surface Type Cover and Surface Touch Cover were pretty bad. Today, Microsoft didn't announce a replacement for the Touch Cover, but the Type Cover is being refreshed for the Surface Pro 3. Dubbed the Surface Pro Type Cover, it'll include a wider surface area and have less resistance than today's cover. That specific cover will cost $129.99.
Second hand reports from WPCentral have confirmed that the older Cover accessories will work on the Surface Pro 3. Unfortunately, they won't cover the entire device's screen since it's larger than its older family members.
Microsoft hasn't said anything about whether the Surface Pen will work on the Surface Pro 3 either, however it did unveil a refreshed version with a top button that lets users  instantly open Microsoft's OneNote application. It's unclear if this new pen will be compatible with the Surface Pro or Surface Pro 2  as well.
Users will need to purchase a new Surface Dock specifically for the Surface Pro 3.
Microsoft Has Addressed Hardware Concerns
Microsoft may have taken its time in unveiling this larger Surface tablet meant to destroy laptops, however it appears to have spent some of that time carefully studying the issues users have with its existing devices.
The Surface Pro and Surface Pro 2 both included a Surface Pen that allowed users to draw, navigate Windows and take notes. They were a true differentiator. Unfortunately, Microsoft didn't actually build in a way for users to store that pen beyond attaching it to the power port on the side of the device. Consequentially, a lot of Surface Pens have probably been lost at some point. The Surface Pro 3 will include a small clip that users can store their pen in, even when their device is plugged in.
The Surface Pro 3 is also designed to be used in both portrait and landscape modes easily. To that effect, Microsoft has moved the Windows hardware button to the side of the screen. Putting it there keeps users from accidentally hitting it when they're reading.
Finally, there's the new adjustable kickstand. Surface Pro 3 users won't have to rush out and purchase third-party accessories to position their devices comfortably. It'll sit there at whatever angle they decide is comfortable.
All told, what Microsoft is offering to those who purchase a Surface Pro 3 is power and mobility. It appears to have seen the errors in its ways and is determined to fill out the Surface line with the devices users will want to have for almost everything they do. For those who don't own a Surface Pro yet and want a large screen, this may be a device good enough to keep them from buying a laptop in the future. For owners of the Surface Pro the situation is unique to their needs.

As an Amazon Associate I earn from qualifying purchases.