Surface Pro 3 Price Cut Gets Users $100 Off Microsoft's iPad Alternative
Microsoft's Surface Pro 3 2-in-1 might have only arrived in all its forms a few weeks ago, but that isn't stopping office retailer Staples from offering a $100 Surface Pro 3 price cut in time for back to school shoppers to save.
A $100 off coupon is what gets Staples shoppers a Microsoft Surface Pro 3 for as low as $699. For comparison, the Surface Pro 3 launched with an entry-level price of $999 before Microsoft introduced a cheaper $799 version that includes less storage and a less powerful processor.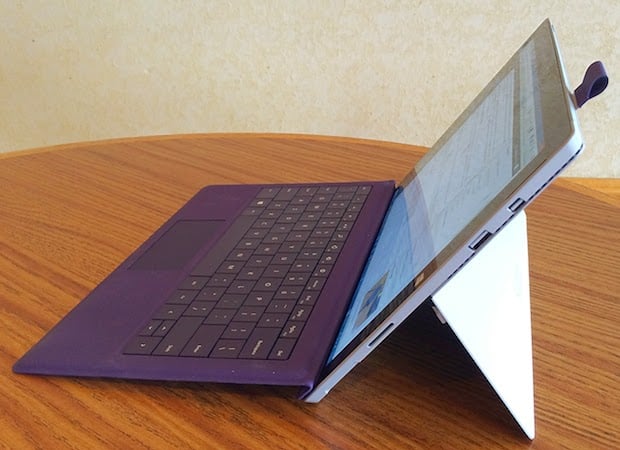 Today the Surface Pro 3 starts at $699 for a model with an Intel Core i3 processor and 64GB of storage. The $999 version of the Surface Pro 3 includes an Intel Core i5 processor with 128GB of storage and users can get 256GB of storage for $1299. An Intel Core i7 model with 256GB of storage starts at $1,549. The Staples coupon lets users get all the versions of the Surface Pro 3 the retailer sells for $100 off, giving users a bit of breathing room to purchase accessories and extras.
And to be clear, that's probably exactly what Staples is counting on. With other Windows PCs, retailers like Staples are able to recoup money on discounts by reminding buyers that they're going to need extras like Microsoft Office or a compatible mouse and keyboard. It's called attachment selling, and with the Surface Pro 3 attachment selling has never been easier.
The Surface Pro 3 has a 12-inch high-definition touch screen display and an included stylus. To the untrained eye the Surface Pro 3 would appear to be just a plain tablet – however, the Surface Pro 3's Intel processors allow it to run a full version of Windows. Microsoft markets the Surface Pro 3 as the easy solution to not carrying around a laptop and a tablet – a way of having the perfect machine for the task your trying to complete without carrying around multiple devices. The problem is that to do that users need to plug in an external keyboard, rely on the device's touchscreen keyboard or purchase a Surface Pro 3 cover. The Surface Pro 3 covers cost a whopping $129.99 on top of the price of the Surface Pro 3 itself. That's despite Microsoft advertising the Surface Pro 3 and the cover as if they're included in the same box.
Users who are considering taking advantage of this would-be Surface Pro 3 price cut should definitely keep the extra cost of the Surface Pro 3 Cover in mind before buying the tablet. This Surface Pro 3 price cut comes just days after Microsoft revealed a new television ad and publicized a trade-in deal designed to lure MacBook Air buyers over to Surface Pro 3.
Read: Deal Gives MacBook Air Users Up to $650 to Switch to Surface Pro 3
The advertisement itself, broke down the benefits of having a Surface Pro 3 instead of a MacBook Air or really any traditional laptop. When note taking is a must users can use the Surface Pro 3's included pen to instantly open Microsoft's OneNote application. Its touchscreen also allows users to get a first class entertainment experience wherever they are.
The claims will sound familiar to anyone whose considered purchasing a Surface Pro in the past. The last two generations of Surface Pro devices have also included touchscreens, kickstands and pen input. The major difference here is that little design changes and touches make the Surface Pro 3 a better laptop and tablet hybrid. The two-step kickstand that limited the angle users could use the device at is gone. It's been replaced by a kickstand that can be freely adjusted. The new row of magnets also makes using the Surface Pro 3 and Pro Cover in a lap actually tolerable. Finally, the Surface Pro 3 is seriously thin and light – putting past Surface Pro devices to shame.
Read: Can the Microsoft Surface Pro 3 Really Replace Your Laptop
Staples' website doesn't include an exact expiration date for the coupon so anyone planning on taking advantage of this deal will definitely want to move fast.

As an Amazon Associate I earn from qualifying purchases.