Surface Pro 3 vs. iPad Air 2
Just a few years ago we were only just toying with the idea of device convergence. Tech reporters and industry insiders predicted a future when having so many devices wouldn't be necessary. You'd pick up your iPhone and it'd have a terrific camera, make phone calls and act as your computer. That day is here for owners of the iPad Air 2. The iPhone until recent didn't have a screen big enough to act as your notebook replace or your point and shoot camera. The iPad Air 2 does and it also has a powerful processor and what most consider the world's most powerful mobile operating system: iOS.
It's strange then that even the iPad Air 2 finds itself as a potential victim of device convergence. Devices like the original Surface Pro opened user's eyes to a future where their notebook could be their tablet and their tablet could be their notebook. Sales of the iPad Air 2 aren't as lofty as people stop accepting that their tablet and notebook have to be separate things. They're embracing 2-in-1s like Microsoft's Surface Pro 3.
Here's how the Surface Pro 3 and the iPad Air 2 compare for those contemplating a next-generation 2-in-1 vs a simple tablet with no compromises.
Surface Pro 3 vs. iPad Air 2 – Design
Apple's design hasn't changed much, but years of iterating have made the iPad Air 2 this best tablet you can buy. The front of the device is still as simple as ever, A Touch ID finger print reader and front-facing web camera flank a gorgeous looking 9.7-inch display. All of this is covered in a single piece of glass. Matching buttons for volume and power adhere to the rounded Aluminum edges of the iPad Air 2. What little edge there is at least, the iPad Air measures just 6.1mm from top to bottom and weighs 0.96 pounds.
Like the iPad Air 2, the Surface Pro 3 is also the product of years of refinement. The first two Surface Pros were blocky, thick chunks of metal. The Surface Pro 3 is good-looking, but built using a different design handbook. On the front sits a huge 12-inch high-definition display. To the left of that display is just a Start button that gets users out of their apps. On its straight metal edges sit a power button, volume keys and three ports that hint at its true 2-in-1 nature. They are a keyboard port, mini Display Port plug and a full-size USB cable. The rear of the Surface Pro 3 is more interesting than the iPad's because of a kickstand that's now freely adjustable — no add-ons or cases required.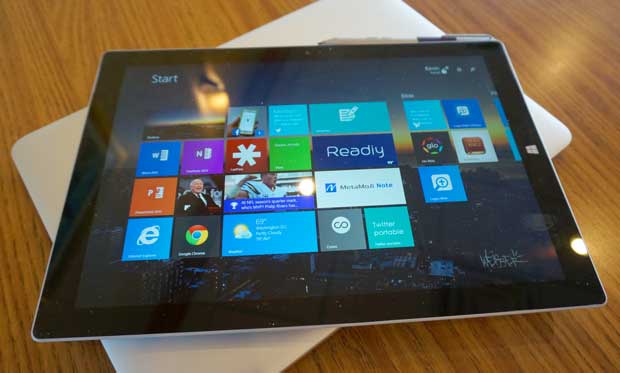 Surface Pro 3 vs. iPad Air 2 – Specifications
Those three ports are what help differentiate the Surface Pro 3 from the iPad and every other tablet. They're the physical manifestation of how customizable and expandable the Surface Pro 3 is. The full-size USB port allows users to connect any add-on they want, without a blessing from Microsoft. Adding a $129 Surface Pro 3 keyboard gives users a laptop experience that they can ditch when they're ready. All of this is important because the Surface Pro 3 has the heart of a laptop, not a tablet.
Inside the base model is an Intel 4th Generation Core i3 processor and 4GB of RAM. Forget, pared down spreadsheet apps and mobile games, the Surface Pro 3 can run full desktop apps like Office and play PC games like the latest Sim City. These apps and games look good thanks to the 2160 x 1440 HD display inside the device. Then users can choose to retreat to the Windows Store for a more touch-friendly app experience with games and apps that have counterparts on the iPad Air 2. Microsoft says the Surface Pro 3 can last 9 hours between charges while browsing the internet.
The iPad Air 2's display measures 9 inches and has a resolution of 2048 x 1536 and Apple says 3.1 million pixels adorn it. That's a long way of saying it's a gorgeous display with a lot more detail packed into a smaller display than the Surface Pro 3 has. Inside the iPad Air 2 is a 64-bit Apple A8X processor. Apple says users can look forward to 10 hours of battery life, more than what you get with the Surface Pro 3.
The iPad Air 2's claim to fame is something that Microsoft has consistently ignored in its tablet lineup: its camera. Sane people seem to have lost the argument over taking pictures with your smartphone instead of your camera. Apple is bolstering its reputation with the winning side with better optics for its iPads. The rear-facing camera on the iPad Air 2 is 8 megapixels and is capable of recording HD video. There's no flash, but dual-microphones and great camera software give it the edge in this department. There's also a HD front-facing web camera.
The Surface Pro 3 has two 5 megapixels cameras that are fine for video chatting or conferencing. No one is ever going to win a photo contest with them or their pretty basic software experience though. Instead of dumping money into the cameras, Microsoft includes the Surface Pro 3 pen, a high-end metal-clad stylus that allows users to quickly take notes with a push of the button on its top. What's more, this trick works whether users are logged in or not. There's also a built-in digitizer in the Surface Pro 3 that interacts with that pen. Artists can draw with an iPad Air 2, but they're never going to get the detail and pressure sensitivity available to Surface Pro 3 buyers.
 Surface Pro 3 vs. iPad Air 2 – Different Devices for Different People
Whether you should purchase a Surface Pro 3 or an iPad Air 2 comes down to your lifestyle, I'd say. Except if you're firmly entrenched in the Apple or Microsoft ecosystem.
The iPad Air 2 exists because at some point we all thought that computing would get simpler, that you shouldn't have to worry about virus protection or keep restore discs for your PC nearby. The iPad Air 2 can act as a supplement to a notebook or desktop, but it's not a complete experience for anyone other than basic user. As Apple has added more productivity and advanced features to the iPad's software and beefed up its hardware, Microsoft has been addressing the very real problems that caused users to flock to the iPad in the first place.
Built-in virus protection is now a thing and so are easy to use recovery tools in Windows 8. Paired down apps allow people to focus on what they want and ditch the more complicated apps they don't want too. If you need to replace your laptop and tablet, you can't go wrong with the Surface Pro 3 with 64GB of storage space and a cost of $799. The iPad Air 2 still wins the easy to use war though, and surprisingly the pricing war too. It starts at just $499 and hits $599 for 64GB of storage.

As an Amazon Associate I earn from qualifying purchases.