Surface Pro 3 vs iPad Pro: Which is Better?
Microsoft bet the future of Windows on Windows 2-in-1s. Having come late to the tablet craze, the original Surface Pro was a tablet that could be a laptop. Microsoft couldn't beat the iPad at apps or accessories. Instead, it focused on letting users be productive while still providing them a decent entertainment experience. The thick 10-inch tablets with keyboards embedded in their covers sold moderately well. So well, that today Apple unveiled the iPad Pro and Microsoft has the Surface Pro 3 available for anyone that wants one.
The Surface Pro 3 is an evolved version of that first Surface Pro. The Surface Pro 3 is the thinnest, biggest Surface Microsoft has made thus far. A refreshed Surface Pen, that new display, an upgraded add-on keyboard and other extras captured the public's imagination, it seems. Sales of the Surface Pro 3 are skyrocketing, according to Microsoft. Then there's Apple's bit of flattery today. The iPad Pro release is Apple admitting that Microsoft might have the right idea about the future of the tablet.
Read: iPad Pro Release Date & Price Confirmed
Here's how the Surface Pro 3 compares to the Apple iPad Pro.
Surface Pro 3 vs iPad Pro: Design & Internals
A side mounted touch-sensitive button and a 12.1-inch 2160 x 1440 display dominate the front of the Surface Pro 3. It's painted silver, with a fold out keyboard dominating its rare case. From top to bottom it measures just 0.36-inches. The Surface Pro 3 weighs 1.76 pounds. There are physical volume buttons, a headset jack and things that set the Surface Pro 3 apart from most other tablets: a full-size USB port and Mini-Display port for connecting to external displays.
Read: Surface Pro 3 Review
Different configurations for the Surface Pro 3 lend themselves to different strengths. Microsoft packs Windows 10 Pro and typical notebook internals into the Surface Pro 3. The entry model comes with 64GB of storage and a very robust Intel Core i3 processor with 4GB. Users can upgrade to an Intel Core i5 or Intel Core i7 with even more RAM. Microsoft wants the Surface Pro 3 to be the only device users need, that's why it's fold-out kickstand is there. Coupled with a Surface Pro 3 Type Cover, the tablet takes on the form of a notebook.
The iPad Pro is Apple trying to meet the same goals but from a different angle. The iPad looks like a super-sized version of all the other iPads that have come before it. There's a TouchID fingerprint reader flanking the 12.9-inch Retina display with a resolution of 2732 x 2048. The iPad Pro isn't meant to run typical programs from OS X. Apple includes a 3rd generation 64-bit A9X chip to power refreshed apps download from the iTunes Store. iOS 9, the operating system the iPad Pro runs, lets users multitask with two apps side by side. This is an exact replica of a feature included in Microsoft's Windows 8 and Windows 10 operating systems.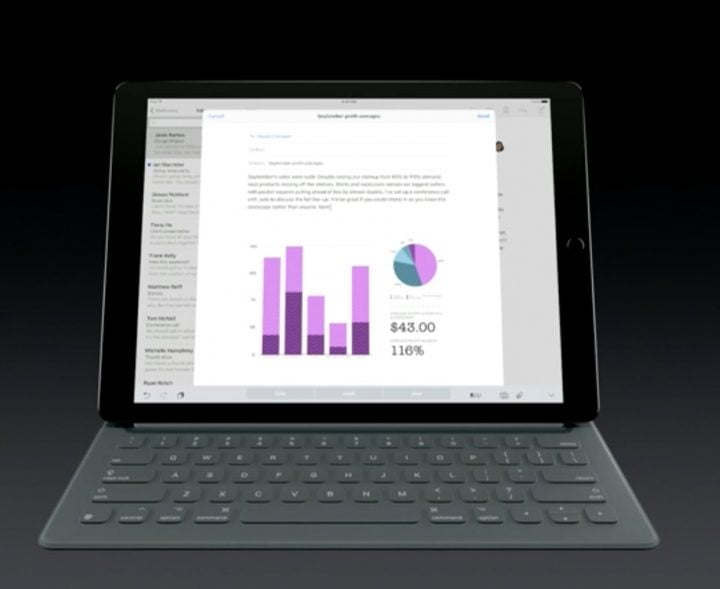 The iPad Pro gets 10 hours of battery life, an 8 megapixel camera and four speakers on each end. The Surface Pro 3 only comes in gray. The iPad Pro comes in Silver, Gold and Space Gray with multiple configurations for storage space and mobile internet access starting at $799 for a model with 32GB of storage.
Surface Pro 3 vs iPad Pro: Accessories & Productivity
There's no kickstand built into the iPad Pro because Apple has a $169 Smart Keyboard Accessory built for that task. The Smart Keyboard holds up the display and connects to the iPad Pro using a new docking system like the one the Surface Pro 3 has. The iPad Pro also has a $99 Apple Pencil that lets users draw and take notes.
The Surface Pro 3 beats the iPad Pro in both areas though. First, the Surface Pro 3 Type Cover locks to the Surface itself, making it more stable in the lap and providing a more comfortable angle for typing. Second, The Surface Pen, which can cost $50 if it's lost, comes with the Surface Pro 3. It has a button that you click on the top to immediately take notes. Microsoft's Type Keyboard also has an actual touch pad for navigating mouse centric apps when serious productivity is a must. Apple seems to have only taken a step in the 2-in-1 direction, leaving users to still fiddle with an upright touch display when they aren't typing anything. It's a strange, strange move for what they're calling a professional machine.
Smartly, Microsoft also bet on a converged operating system for Surface. It's taken the company some time to get it right, but Windows 10 has the right mix. New touch and mouse friendly app designs work well and users can fall back on programs if they need to. The Surface Pro 3 can be used with any combination of apps from the Windows Store and thing you can download from a browser. The Surface Pro 3 doesn't need a touch-centric version of Adobe Photoshop with less features, because it has the real Windows version, for example.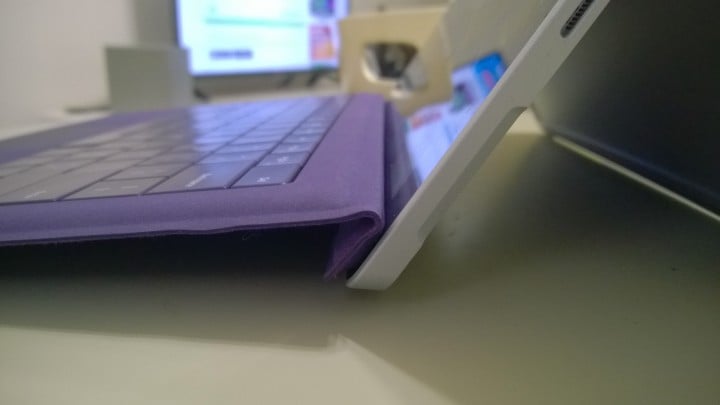 Windows 10 users can disable Tablet Mode and focus on keyboard input if the want. The iPad Pro practically embraces Microsoft's original vision for the Surface RT. That device didn't allow for users to install programs to supplement Windows Store apps. It failed to catch on because the apps to pull that off just weren't available. Apple doesn't have that problem; the iTunes Store will likely fill with apps that take advantage of these new side-by-side multitasking features quickly.
Surface Pro 3 vs iPad Pro: Specs
| | |
| --- | --- |
| iPad Pro | Surface Pro 3 |
| 3rd Generation 64 Bit A9X Chip | Intel Core i7, Intel Core i5, Intel Core i3 Processors |
| Four Speaker Audio | Stereo Speakers |
| 12.9-inch display (2732 x 2048) | 12-inch Display with (2160 x 1440) |
| 8MP iSight Camera & FaceTime Camera | 5 Megapixel Rear-facing Camera & 5 Megapixel Front-Facing Camera |
| 802.11AC & mobile internet configurations | 802.11AC with no mobile internet configurations |
| Touch ID | MicroSD Card reader, full-size USB port |
| Apple Pen Support ($99 add-on) | Surface Pen Support (Included) |
| Smart Keyboard Support ($169 add-on) | Surface Pro 3 Keyboard Support ($129 add-on) |
| Starts at $799 | Starts at $799 |
Surface Pro 3 vs iPad Pro: What to Buy?
Earlier today, Gotta Be Mobile compared the Surface 3 to the iPad Pro. It's a valid comparison because of their positions in the marketplace. The Surface 3 is for users who want a Surface Pro without the extra horsepower.
Read: Surface 3 vs iPad Pro: What to Buy?
Comparing the Surface Pro and the iPad Pro reveals how similar Apple's approach is to what Microsoft has available and why it's dangerous.
As Microsoft did before it, Apple has decided that the future of the tablet is a device that can be anything you need it to. The iPad Pro can be a notebook or with the right hardware accessories. At $799 for a model with 32GB of storage, it's certainly as expensive as one.
The problem for the iPad Pro is that Apple hasn't gone far enough in its efforts. It's managed to build decent imitations of the Surface Pro 3 experience, but not pay attention to the little deals. Not being able to lock the keyboard in place could leave the iPad Pro flopping around as users type in their pay. On a desk, the iPad Pro's extra keyboard accessory will have keys nearly flush with the table their own. From personal experience, that could hurt.
Apple can make up for the lack of USB port and display ports with lightning accessories. Being more tablet-like does help the iPad Pro in some ways: it's only 1.57 pounds, less than the Surface Pro 3. It's also thinner than the Surface Pro 3 at 0.27 inches
It remains to be seen how it'll make up for not having some kind of iOS/Mac OS hybrid on the iPad Pro. The Surface made a name for itself by being the one device users need. Sticking iOS, which is fundamentally a touch operating system for designed for smartphones, could be a liability for users looking into replace both their notebook and tablet.
Apple says the iPad Pro and its accessories will go on-sale this November. The Surface Pro 3 is already on sale beginning at $799.

As an Amazon Associate I earn from qualifying purchases.