Surface Pro 3 vs Surface 3: What You Need to Know
Microsoft's Surface line of tablets and accessories changed the way we see the company. No, the first generation Surface and Surface Pro weren't perfect machines to take on the iPad and MacBook Air. They were indicative of a new kind of Microsoft though, a Microsoft that didn't mind retooling and rethinking their approach to consumers. Last year's Surface Pro 3 was a hit and the company has all the necessary things in place for a hit with the Surface 3 too.
Here's what you need to know about the Surface 3 and the Surface Pro 3 before ahead of the latter Windows 2-in-1's launch this coming May.
Surface Pro 3 Vs Surface 3: Differences In Design
The Surface line of tablets were so far out of the mainstream when they launched that many thought they'd never catch on. At a time when almost every other PC maker was focusing on thinner and thinner notebooks to compete with the MacBook Air, here Microsoft was with these bulky tablets complete with a full-size USB port and a magnetic keyboard that attached at the bottom for a notebook-like experience.
Read: Surface 3 to Tackle the iPad Air 2 This May
The Surface 3 is about righting the wrongs from that first generation Surface, the one that almost everyone had the good sense to not purchase in droves. The Surface 3 is light, weighing, 1.37 pounds. It's also super thin, measuring just 0.34 inches from back to front. On the front is a newly expanded 10.8-inch high-definition display and a 3.5 megapixel web camera. The Surface 3 is silver, just like the Surface 2 before it.
The Surface Pro 3 has 12-inch high-definition display and weighs 1.76 pounds, making it significantly heavier than the Surface 3. Ironically, though the Surface Pro 3 is a hair thinner than the Surface 3 since its internal components are spread out over a larger area.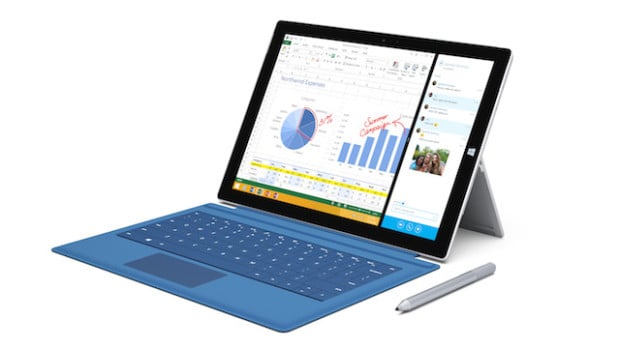 Read: Surface Pro 3 Review
A Surface wouldn't be a Surface without a dedicated kickstand and both the Surface Pro 3 and Surface 3 have them. That kickstand is also your first hint that these two devices aren't created equal. The Surface Pro 3's kickstand can be freely adjusted thanks to a very nice tension hinge. To keep its size down, the Surface 3 has a kickstand with only three positions. If you look closely you notice that the Surface Pro 3 has fan vents that are gone in the Surface 3. That's your second hint that the Surface 3 is a different kind of Surface for a different kind of user.
Both devices still have full-size USB ports and MicroSD card slots. Charging on the Surface 3 is handled by a microUSB port, something the Surface Pro 3 doesn't offer.
Surface Pro 3 vs Surface 3: Differences Inside
The Surface Pro 3 is a complete notebook replacement that looks like a tablet. It has vents because inside are one of three very powerful Intel Core processors and enough RAM to it up. It has a barebones 5 megapixel rear-facing camera because it's not really meant as something you'll want to routinely take pictures with. It comes with a Pen because a growing number of people prefer taking notes. It's a productivity powerhouse.
The Surface 3 isn't a productivity powerhouse in the same sense. It has no vents because it's powered by an Intel Atom X7 processor. The entry-model comes with 64GB of storage and 4GB of RAM. Its 10.8-inch display has a resolution of 1920 x 1280, less than the Surface Pro 3's bigger 12-inch display.
As described, they all sound like compromises to get the Surface 3 down to its $499 price. That's probably true, but it appears Microsoft is aiming to build an entertainment power house. That smaller screen makes the Surface 3 easier to manage with a single hand. 64GB of storage is a lot more than what you get with other entertainment tablets, especially the iPad. What's more, you can add even extra storage with that aforementioned microSD card slot. That microUSB port means you can plug the Surface 3 into any charger you have near you. Microsoft discarded that 5 megapixel rear-facing camera for the Surface 3 in favor of an 8 megapixel camera that finally has autofocus.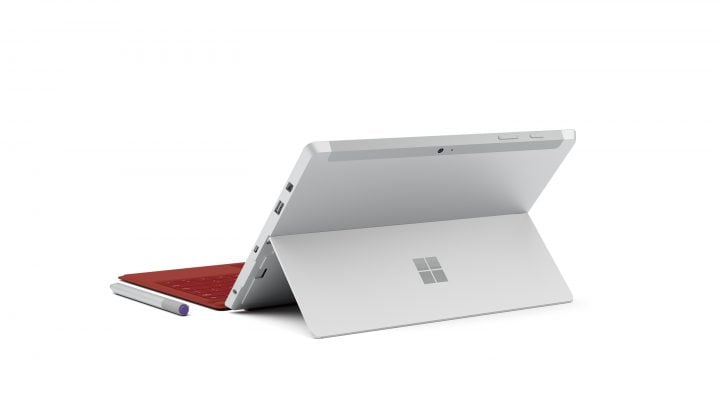 The Surface 3 is deceptive too. You think you're buying a less capable Surface Pro 3, but in most ways you really aren't. The Surface 3 doesn't come with it, but it does support the same keyboard cover and Surface Pen that works with its more expensive brother. This is the first low-end Surface tablet to come with a full version of Windows 10. Don't like those Windows Store apps? Install any Desktop Windows app you want including iTunes. Microsoft also throws in a year of Office 365 and OneDrive cloud storage at a value of $69.99. No, you won't be running Photoshop on the Surface 3, but suddenly you have a notebook PC with a premium feel, good looks and all the options you need in terms of apps. The Surface 3 also lasts 10 hours, 1 hour more than the Surface Pro 3 does away from a charger.
Surface Pro 3 vs Surface 3: Which to Buy
If you're considering really heavy gaming or using productivity tools that require beefy processors then you want to go with the Surface Pro 3. It's more expensive at $799, but you get the bigger screen, the Surface Pen and the adjustable kickstand and the raw power that something like Photoshop requires.
Read: Big Surface 3 Pre-Order Deal Arrives
In most situations I'd say the Surface 3 is a better fit. The smaller screen fits in nicely with the crop of tiny notebooks now taking over. Reading books is definitely going to be something better experienced on the Surface 3 than the Surface Pro 3. The Surface 3 seems more versatile.
Remember to factor accessory purchases into the equation though. The Surface 3 itself is $499, but it doesn't come with the $129 Type Cover or $50 pen unless you snag a Surface 3 pre-order deal at Costco. Microsoft is taking pre-orders for the Surface 3 now. Those pre-orders should arrive on May 5th.

As an Amazon Associate I earn from qualifying purchases.