Surface Pro 4 Release Date Tipped for October
New rumors indicate that Microsoft, maker of the Xbox One and Windows, has plans to unveil a new Surface Pro 4 to take on the iPad Pro and more at an event this October. More specifically, these rumors say that users can expect to at least hear about a Surface Pro 4 release date on October 10th.
WMPowerUser's Evan Blass cites October 10th as the day we'll learn more about he Surface Pro 4 release date indirectly in a new post discussing the materials Microsoft plans to use on its iPhone 6s and iPhone 6s Plus rivals, the Lumia 950 and Lumia 950 XL. Last month The Verge reported that Microsoft planned to unveil the Surface Pro 4, Lumia 950 and Lumia 950 XL at an event together.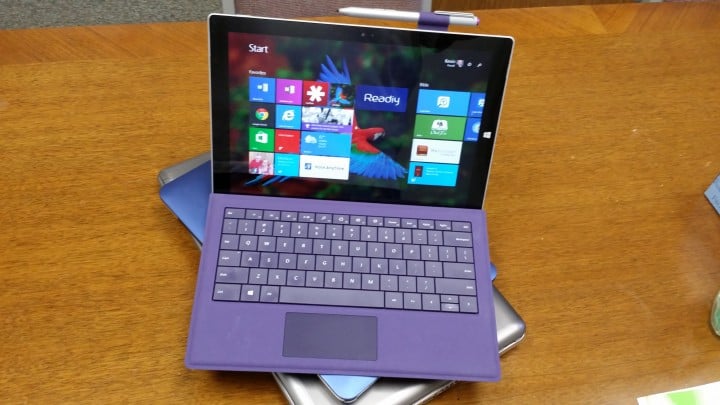 "The software giant will use the event to unveil two new Lumia handsets, the Surface Pro 4 and a Microsoft Band 2,"the outlet reported back in August.
Blass, who goes by the name Evleaks on Twitter and more, has offered what turned out to be pretty accurate information about Microsoft's plans for devices in the pass. It's possible that he's wrong about when we'll hear more on the Surface Pro 4 release date, but not likely. The Verge has also been pretty accurate in the past, where Microsoft's plans are concerned.
To be clear, it is more likely that October 10th is just the day that Microsoft plans to reveal the Surface Pro 4 and its new devices to the world, with a final release date coming sometime between then and the holiday shopping season. Historically, Microsoft has always opted to reveal devices then let users pre-order before they arrive in stores. It did this with the Surface Pro 3 last year.
Read: 4 Ways the Surface Pro 3 Beats the Apple iPad Pro
As for Surface Pro 4 features and design, we're still pretty much in the dark about those things. The original Surface Pro was Microsoft's first foray into building a device that could be both a notebook or tablet. Microsoft focused on productivity, giving users fairly robust notebook processors in a tablet body. Every Surface Pro has an Intel processor that's capable of running desktop applications and apps downloaded from Microsoft's own Windows Store. To beat the iPad at its own game, Microsoft needed a device that let users be productive and stay entertained.
Each Surface has had a port for adding a Surface Type Cover, a USB Port, Display Port and a kickstand. With the Surface Pro 3, Microsoft made a device that featured these things and was slimmer than ever. The Surface Pro 3 has a solid silver shell with a rather thin body and a 12-inch touchscreen display that supports Microsoft's Surface Pen stylus. The kickstand on its rear shell doesn't have one or two angles, but is adjustable. Users can movie it to get the best viewing angle possible. The Surface Type Cover also locks to the screen so that users get a better lap experience.
We know that at the very least, many of the Surface Pro 3's features will find their way into the Surface Pro 4. Microsoft confirmed as much when it reached out to businesses saying it was safe to invest in Surface Pro 3 chargers, covers and docks without fear that they'd not be compatible with newer models. Microsoft could introduce another Surface Pro model with a screen size bigger than the Surface Pro 3, but we've heard no credible rumors that this is the case.
Read: Surface Pro 4 vs iPad Pro: Which is Better?
The Surface Pro 3 is the most popular device in Microsoft's Surface line-up by far, making a Surface Pro 4 virtually a sure-thing. Even improving on its design in a few ways could yield big results for Microsoft. Some say that the next Surface Pro will come with a camera that'll let users unlock their device instead of having to use a password. Others believe that Microsoft is preparing to use new Intel Skylake processors on the Surface Pro 4 for better battery life and an even smaller frame.
Whatever is in the Surface Pro 4, it definitely seems like Microsoft is preparing to move on to a new device. It's Microsoft Store website offers $150 or more in savings on Surface Pro 3s right now.

As an Amazon Associate I earn from qualifying purchases.