Surface Pro 4 Review: The Best There Is
Few people thought that Microsoft was on its way to creating something special when it unveiled the first Surface tablets. Thick and chunky, these devices had an awkward screen size. The Windows 8 operating system that Microsoft pre-installed didn't lend itself well to being both a notebook and a tablet. Battery life wasn't something these early devices offered in abundance either. Now we have the Surface Pro 4, a Windows 2-in-1 that's expected to dominate sales of Windows 2-in-1 machines for some time.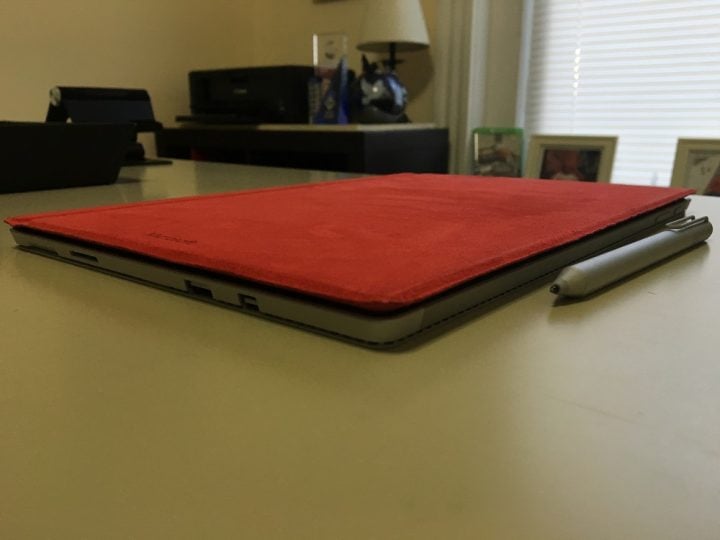 The Microsoft Surface Pro 4 is Microsoft making good on its promise that those bold enough to embrace its hardware would get the best – almost Apple-like – experience possible on a Windows machine. I'm convinced that it's the best device running Windows 10.
Surface Pro 4 Review – Design
Microsoft didn't go from being the laughing-stock of devices to being a purveyor of an original idea instantly. In between the original Surface Pro and Surface Pro 4 there were some stumbles. Everything meshed in 2014 when Microsoft debuted the Surface Pro 3. That device had a 12-inch display and light gray metal shell. It was thin and light compared to previous devices. A simplified charging port and freely adjustable kickstand were also included.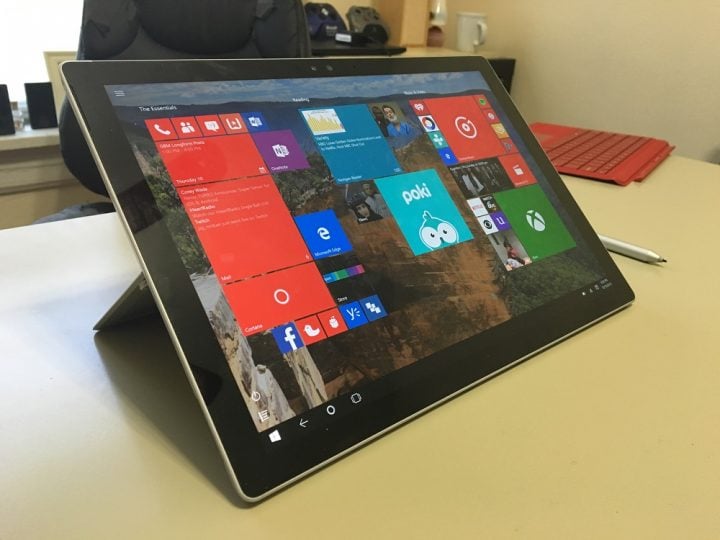 All of these things are important because the Surface Pro 4 is an evolution of its immediate predecessor. There are no huge departures in any way.
The Surface Pro 4 weighs 1.69 pounds and measures 0.33-inches from top to bottom. A new PixelSense display with a resolution of 2746 x 1824 pixels dominates the front of the device. Microsoft has kept the device the same height and length, even with the larger, more vibrant display. It was able to do this by ditching the touch-sensitive Windows button that the Surface Pro 3 had to the right of its display and compressing its display and touch technology. I'm sure someone will miss that touch sensitive button, but getting rid of it was the right move. The Windows 10 operating system that Microsoft installs on this device makes it unnecessary.
Read: Windows 10 Review – A Love Affair
The left edge of the Surface Pro 4 has a poorly placed headphone jack and a small indent for pushing out the same rear-mounted Surface kickstand we saw on its predecessor. The mechanism does feel more rigid, though, even a month after release. Volume buttons sit to the right of the power button on the top edge of the Surface Pro 4. On the right edge of the Surface Pro 4 is a slot for the SurfaceConnect charger, a USB 3.0 port and mini display port. The slot that lets users attach a keyboard cover with a snap is back on the bottom too.
Surface Pro 4 Review – Internals
A vent along the edges of the Surface Pro 4 allows its upgraded internals to breathe. How the Surface Pro 4 cools itself has never been more important. Every version of the Surface Pro 3 had a fan, but the entry-level Surface Pro 4 with Intel Core M3 processor doesn't. Backing up the vent is a new hybrid cooling system that dissipates heat better than the fans of the past.
Surface configurations with an Intel Core i5 processor an Intel Core i7 processor still have the fan around, but the Intel Core M3 model is the most mainstream. It lacks a fan. Windows never feels better than when it's embracing the characteristics of simpler devices like the iPad. The iPad doesn't have a fan and was thus was a better media tablet than the Surface Pro 3 was. Its fan turned on even when you were streaming content from Microsoft's Movies & TV app. There's no fan in this entry-level model to ruin the immersion.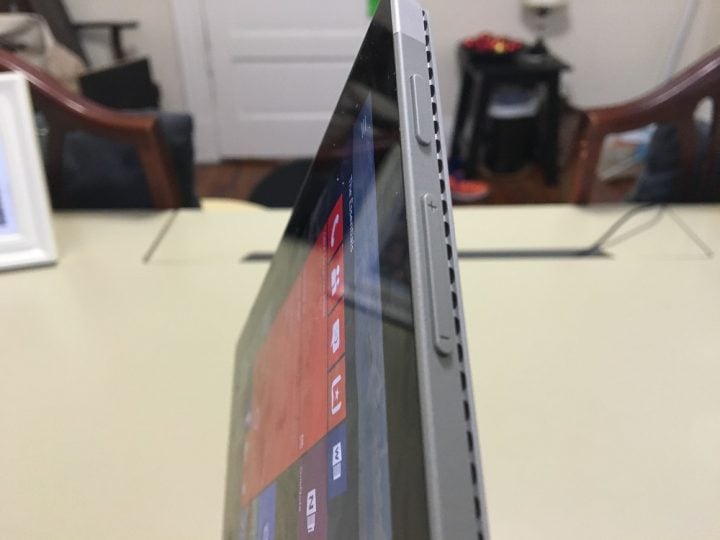 In devices this thin, heat can also ruin the experience. We want our devices thinner and powerful, but we sometimes forget that the heat they produce has to go somewhere. In almost every situation that I'd consider a normal use case, the Surface Pro 4 with Intel Core M3 & 4GB of RAM handles heat well despite not having a fan. Browsing the web, shopping, reading email, watching streaming video and playing games from the Windows Store doesn't cause the device to heat uncomfortably in your fingers.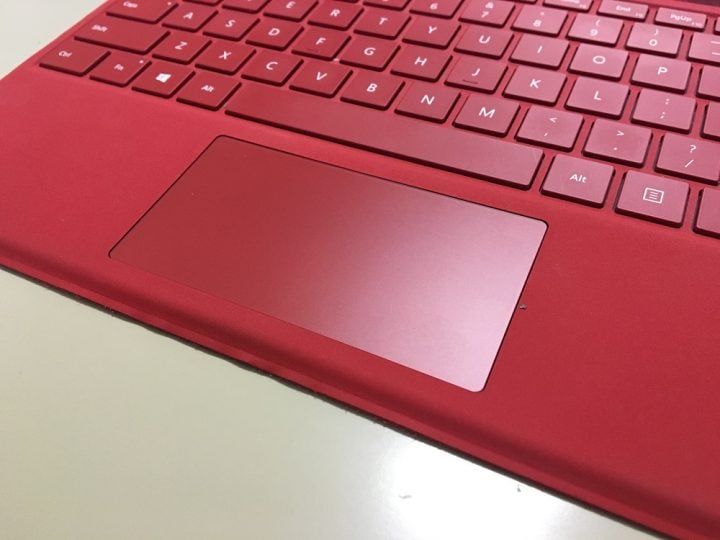 Load a desktop program that's historically a resource hog and the rear center gets toasty. PC desktop games hit the Surface Pro 4 too. When everything becomes too much for it to bear, the Surface Pro 4's firmware kicks in and slows the processor down. Never once did I get throttled in my daily routine. This frequently happens in modern PC games where I tried to use the highest graphics possible. It's not exactly fair to judge this model by its gaming credentials, though.
The models with Intel Core i5 come with Intel HD 520 graphics. The Intel Iris graphics are paired with Core i7 models. These are better configurations for gamers.
RAM configurations range from 4GB to 16GB. 4GB of RAM is great for everyday tasks, but those who plan on keeping the device for years to come might want to future proof and get a model with more RAM. My Surface Pro 4 never exceeded 20% of CPU usage during a normal day. RAM usage commonly hit 68% of total RAM available. System and compressed memory account for a big chunk of that because Microsoft changed the way it speeds up app launches and reports that to users with the Windows 10 November Update.
There's plenty of storage, with even base buyers getting a speedy 128GB SSD. A microSD card slot hidden in the chassis lets users add more space, but there's plenty of range here. There's even a model that comes with 1TB  of storage.
Every Surface model gets about 9 hours of battery life, according to Microsoft. That's the same amount as the Surface Pro 3.
Surface Pro 4 Review – Experience
Microsoft, like other companies, is attempting to make interacting with a PC feel natural. Windows Hello and an upgraded Surface Pen are their latest efforts. Windows Hello lets users login without a password. The system supports fingerprint readers and special cameras.
The Surface Pro 4 goes with the camera option and it's terrific. Setting it up was painless and it's been great since. I do find myself sometimes logging in accidentally, even when I didn't mean to. You don't need to be too close to Surface Pro 4 for Windows Hello to work either. This is a problem the smartphones that Microsoft announced alongside the Surface Pro 4 in October both suffer from.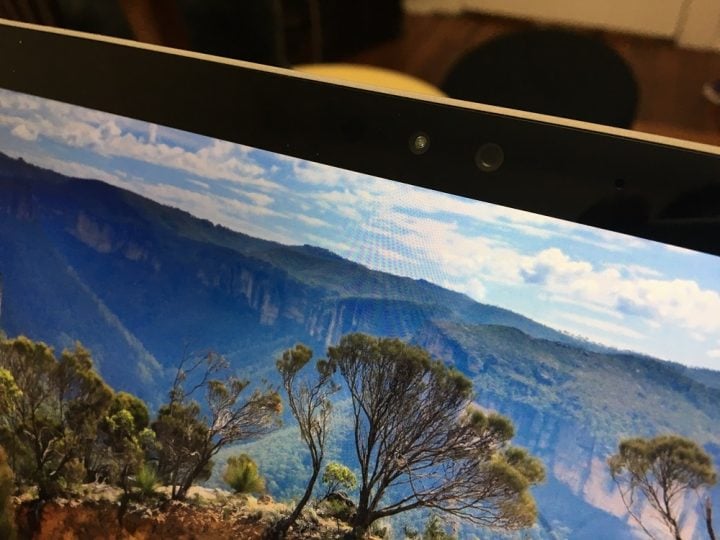 Surface prides itself on its pen. The previous versions were fine, but the Surface Pro 4's Surface Pen surpasses them all. Microsoft kept the same metal barrel but made the pen more pressure sensitive. The pen's tip is interchangeable. According to Microsoft, there are 1024 different levels of pressure sensing and bettering palm blocking software . Also, you can erase notes with the rubber-covered cap at the end. Pushing that cap can also launch Cortana or OneNote.
Mercifully, Microsoft added a ridiculously strong magnet so that the Surface Pen can be stored on the device's body instead of in a felt keyboard loop that you will lose. Using a Surface as a notebook has never been better than it is here.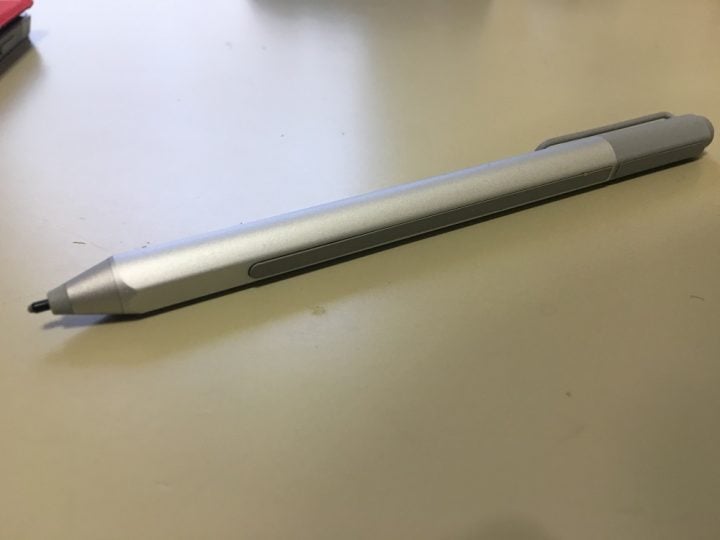 A Type Cover keyboard available for this model and the Surface Pro 3 has a better trackpad and key caps. Spacing between each key is a touch-typist's dream and the trackpad is silky smooth.
Unlike the Surface Pen, this new Type Cover still doesn't come with the Surface Pro 4. It's a separate $129 purchase. This makes adopting a Surface Pro 4 rather expensive for anyone that doesn't own a Surface Pro 3 already.
Surface Pro 4 Camera Samples
The best camera that you have, is the camera that's now available to you. I'm happy to say that Surface's bad luck streak with cameras comes to an end with the Surface Pro 4. A 5 megapixel front-facing camera that doesn't offer auto-focus is serviceable.  The rear-facing 8 megapixel camera does have focusing and is just fine when there's nothing else around. Even with auto focus they sometimes struggle to balance shadows and light. Cameras on previous Surfaces were so bad that sometimes you couldn't digitally deposit a check. The Surface's premium price tag deserved better cameras.
Surface Pro 4 Review – Should You Buy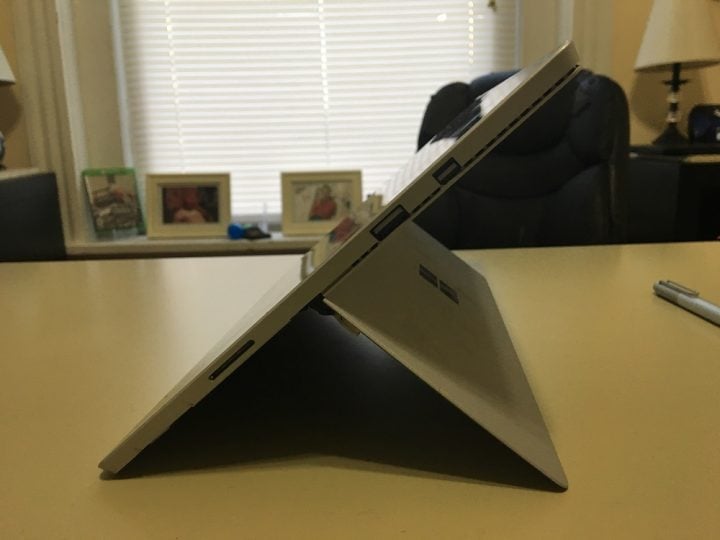 Microsoft didn't add a USB Type-C port and it didn't rethink its keyboard covers or overall design philosophy. People already liked the form factor. For this to be a hit, Microsoft needed to provide some reasonable internal improvements. Those improvements are present in this device.
The Surface Pro 4 is thinner, cooler, lighter, louder and better looking than any previous Surface Pro. If you weren't open to the idea of a tablet that can be a notebook, there's nothing here that'll change that. There's the Surface Book for those of you with objections to the tablet-notebook combo.
There's only one negative here and it's that Microsoft raised the price of the already expensive Surface Pro line by $100 to $899. This price doesn't include the Type Cover, even though the company still pictures the cover with the device in all of its advertising.
Stiff competition is coming in the new year. For now, this is the best the Windows ecosystem has to offer and it's well worth the price of admission.