Surface Pro Demo Units Popping Up at Retail Stores
Microsoft is preparing to launch its Surface Pro tablet, which runs Windows 8 Professional and Intel's core processors, and demo units of the Windows slate has been seen at various retail locations. It's unclear which retail locations are showcasing the demo units in advance of consumer availability of these slates on February 9.
Engadget is reporting that select retail locations have already put up demo units in stores so users can give the Surface Pro a test drive. CNET is reporting that various Microsoft retail stores in the Los Angeles, California area have demo units up.
In addition to Microsoft's online store and Microsoft's retail stores, retailers Best Buy and Staples are also expected to be carrying the Surface Pro tablets at launch day.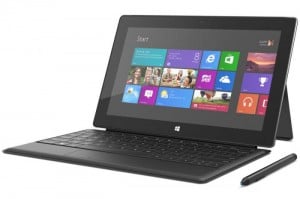 The Surface Pro will feature the same design as the Surface RT tablet, but will also give users the ability to run all programs made for Windows and not just the Metro apps that Surface RT could only run. The tablet will come equipped with a magnetically-attached digitizer pen and users can also pick up an optional keyboard cover for typing.
The 64 GB model of the Surface Pro costs $899, though we would advise users to consider spending an extra $100 and upgrading to the 128 GB model, which comes with twice the storage capacity. The reason being is that Windows will take up a significant chunk of storage space, and installations for Windows programs could fall on the heavy side of things. Though the Surface Pro is marketed as a tablet, its performance and specs make this slate more akin to an Ultrabook.
And though the Surface Pro will come with more power than competing slates–you'll have the power of Microsoft's Windows ecosystem–this comes at the cost of battery life as the Surface Pro is said to have about half as much battery life as the competing Surface RT, which comes with an ARM architecture and is limited to Metro apps.
Interested customers can buy the Surface Pro starting on February 9.

As an Amazon Associate I earn from qualifying purchases.