Microsoft Surface Team Reveals Surface RT Design & Feature Details
Shortly after the Microsoft Surface went on sale yesterday the team behind the device went to Reddit, an online community, to answer a number of questions about the device.
During the Reddit AMA, short for Ask Me Anything, the Surface team talked about why they chose the screen resolution for the Surface, why there's no 3G or 4G, and if the device can use an Xbox 360 controller among many other things.
One of the big questions about the surface is why did Microsoft use a 1366×768 resolution screen instead of going after the Retina display like the iPad.
Stevie from the Surface team explains that while higher resolution is nice, it isn't everything in a display. He said that aspects like contrast and glare are also important to how much detail users see on a screen. He also mentioned that Microsoft's ClearType Display technology helps make text appear smooth no matter the resolution.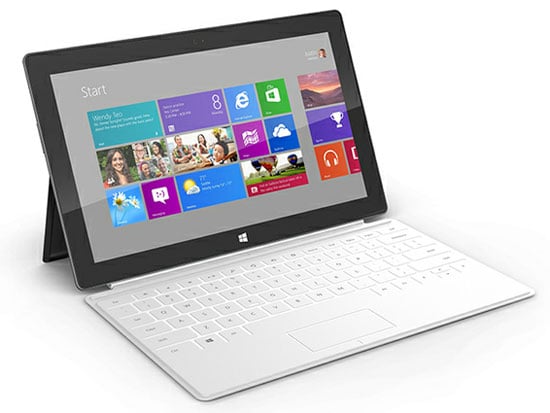 According to Stevie the Surface RT tablet reflects 5.5-6.2 percent of light, while the iPad reflects 9.9 percent. He claims that a more reflective screen makes it harder to see detail.
The iPad also arguably has an edge over the Surface in mobile connectivity. The Surface only has Wi-Fi with no 3G or 4G option, which the Surface team says was by design. The team says that 2/3 of all tablets are Wi-Fi only, and most are only used in the home anyway. The team didn't feel the Surface RT needs mobile connectivity for this reason, and because users can use a mobile hotspot from their phones instead.
Unlike the iPad and some Android competitors, the Surface RT tablet includes a USB 2.0 port. This USB port pairs with the USB Xbox 360 controller for gaming sessions, something the team says they do often. The USB 2.0 port will not support USB-to-Ethernet adapters, so it's WiFi only.
The Touch Cover also came into question. The team explained that users can flip the cover around to the back of the device and the keyboard will turn off, so they don't need to worry about hitting keys accidentally. One team member also claimed they can type 86 words per minute on the Touch Cover.
The Microsoft Surface RT is available for pre-order now, and it will release on October 26. The device is only available through Microsoft's online store or in Microsoft stores including new pop-up stores across the U.S.

As an Amazon Associate I earn from qualifying purchases.