Microsoft Surface Studio Release, Price & Pre-Orders
Like Apple did with entertainment, Microsoft has found its niche with productivity. Since the Surface Pro 3 finally caught on with users, the company has transformed itself from the inside out. With software upgrades, like the Windows 10 Creators Update, it hopes to empower users to make and dream. Long, one of the biggest software makers in the world, the company's hardware products are honing in on creation as their single reason for existing. The newly announced Surface Studio emphasizes this.
The Surface Pro is a tablet that can become a laptop, and the Surface Book is a notebook than can double as a tablet. The Surface Studio is an all-in-one that transforms into a digital easel. At first glance, the machine almost resembles a notebook PC carefully placed under a seriously thin monitor. For a company that's managed to find success by creating hardware for users that want one device for their personal and professional lives, the Surface Studio directly targets a different demographic. Microsoft is going after professionals entirely.
What is Surface Studio?
Plain and simple, the Surface Studio is Microsoft's entry into the all-in-one market that Apple pioneered with the iMac.
Rather than have a simple stand as the iMac does, The Surface Studio's ridiculously thin display is held up by two arms that directly connect it to a base. Microsoft says that these arms have 80 different custom parts each, something Surface head Panos Panay likes to use offhand to note how much care his designs pour into each device they make.
The Surface Studio's display uses the same PixelSense technology that other members of the Surface family do. That being said, we've never seen a Surface this big before. The display on this device measures 28-inches from corner to corner. Its resolution is 4500 x 3000, giving it more pixels than a 4K television. There's only the one screen size. Color calibration gets users the most accurate color recreation possible. Scaling has been fine-tuned so that the display can render things in their real size, like a sheet of paper.
Inside the base is a quad-core Intel Core i5 or Intel Core i7 processor. Buyers choose between a NVIDIA GeForce GTX 965M graphics card with 2GB of GDDR5 RAM or the NVIDIA GeForce GTX 980M graphics card with 4GB of GDDR5 RAM.
https://www.youtube.com/watch?v=BzMLA8YIgG0
The arms that prop up the massive display have 80 custom parts because they are not stationary like the arm of an iMac. Users can pull or push the display down to create a 28-inch touch-sensitive, digital pen ready surface that they can draw on and directly interact with.
All of the Surface Studio's ports face backward. There's 4 USB 3.0 ports, a SD card reader, Mini DisplayPort and headset jack. A 5-megapixel front-facing camera supports web-calls and Microsoft's Windows Hello technology for logging in. Every surface now comes with a Surface Pen accessory, this one is no different.
Two other accessory-related capabilities stand out. A physical dial Microsoft is calling the Surface Dial lets users interact with the Surface Studio's apps and programs in natural ways. Sadly, that device costs $99 extra. Wireless technology inside the Surface Studio let the device support an Xbox Wireless Controller with full stereo audio, little lag and no extra accessories.
Surface Studio Price
Even with the support for Xbox gaming, we know Microsoft is aiming the Surface Studio at professionals and artists because of one thing: it's price. Budget-minded buyers collectively gasped when Microsoft revealed the Surface Book would start at $1,499. They'll positively faint once they see this device's starting price at the Microsoft Store.
The base version – one that includes 1TB of storage, an Intel Core i5 processor, 8GB of RAM and the 2GB NVIDIA GPU – will cost a whopping $2,999. For the Core i7 model and 16GB of RAM, shoppers will need to spend $3,499. The most powerful Surface Studio that anyone can buy is the 2TB Intel Core i7 version with 32GB of RAM and a 4GB GPU. It's $4,199 from the Microsoft Store right now.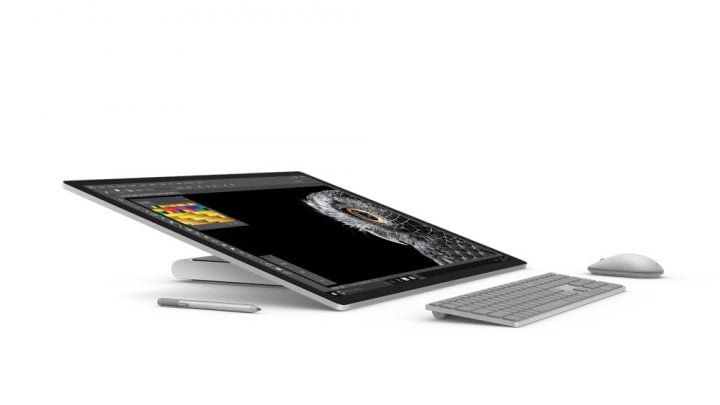 For an average user, that's an awful lot to spend on a computer. For professionals, it seems less so. Typically, artists purchase Wacom drawing tablets, powerful PCs components and extra monitors to get the best setup. Buyers of the Surface Studio get everything they need in one well-designed, less cumbersome package.
Surface Studio Release Date & Pre-Orders
Every one of these Surface Studio devices are available for pre-order now on Microsoft's website. According to Thurrott, for a limited time, Microsoft is throwing in the $99 Surface Dial with purchases, though that'll eventually be a separate purchase.
Surface Studios will start arriving on doorsteps on December 15th, which is cutting it pretty close to the end of the holiday shopping season. Placing a pre-order is key to getting one of these on release day, Panos Panay said on stage at its reveal. They're only going to be available in small quantities when they launch.

As an Amazon Associate I earn from qualifying purchases.