Surprise Batman Arkham Knight DLC Release Revealed
Batman Arkham Knight Season Pass holders may have only gotten access to the Batgirl DLC yesterday, but video game developer Rocksteady and publisher Warner Brothers Interactive are already teasing the downloadable content they have coming up next. That content includes a new batch of skins die-hard Batman series fans will swoon over.
Just as it was releasing the new Batman Arkham Knight Batgirl DLC yesterday Rocksteady was revealing a surprise new slate of character skins and upgrades that Season Pass holders can expect this coming August, according to GameInformer.
In Batman Arkham Knight character skins are used to let players customize their character. It's the game's way of letting users add some of their personality and history with the series to their experience even though there's no multiplayer and a strong character-driven story. Gamers can make it through the entire game in these skins, not just challenge rooms and side missions. In the next month Rocksteady plans to add a slew of character skins.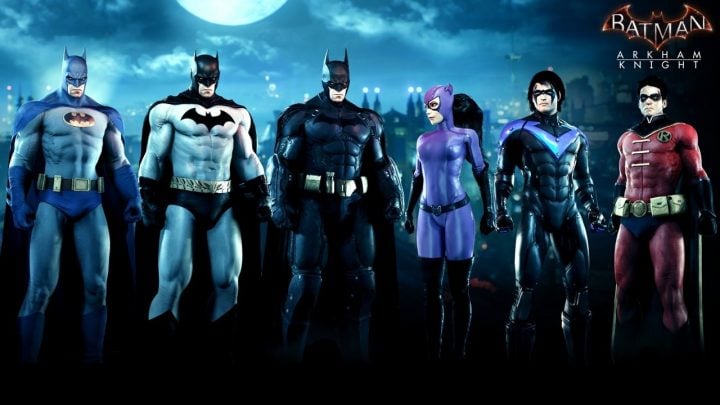 The 1990s Batman Arkham Knight Skin Pack will add fan-favorite customs from the last century. Skins for Batman included in the pack are the 1970s Batman, Arkham Origins Batman and Iconic Grey & Black Batman. Also included in this pack are the 1990s Catwoman, One Year Later Robin and Original Arkham Nightwing skins. Again, all of these skins are completely interchangeable with the skins that are already available for each character in Batman Arkham Knight.
Read: Batman Arkham Knight Batgirl DLC Release Date Arrives
A second, more high-profile pack is coming to Batman Arkham Knight Season Pass holders and it is inspired by the Batman film from the late 1980s starring Michael Keaton. Included in the skins pack is a black and yellow Batman suit taken straight from the movie. Also included is a skin for the Batmobile, which is also able to be skinned. The Batmobile skin included in the pack means that users can perfectly compliment their Batman with his matching ride.
Rocksteady and Warner Brothers aren't talking yet about specific launch plans for these two new skin packs. We know that they're coming sometime in August, but nothing more than that. Right now it appears the only way to get the skins are to purchase the $40 Season Pass add-on for the game. If there are plans to make the skins available as separate purchases, neither the publisher nor developer are talking about them.
The Batman Arkham Knight Season Pass promises six solid months of new content for the game at no additional charge. Yesterday, Batgirl A Matter of Family launched exclusively for Season Pass holders. It's not expected to arrive for everyone else until early next week. It'll cost $6.99 on its own.
The Season of Infamy is another Batman Arkham Knight extra coming to Season Pass holders. It'll include its own story arc, villains and missions in the same way the Batgirl DLC does. Joining it will be Gotham City Stories, an opportunity for users to play as Batman's allies after the events of Batman Arkham Knight.
There are packs of challenge maps coming so that players can test themselves in similar scenarios to see who is best. Legendary Batmobiles and matching race tracks are coming for users who identify more with the Batmobile than they do the various Batman characters themselves. The timeline for all of that content is unclear at the moment.
Read: How to Use & More Batman Arkham Knight Batmobile Tips
Batman Arkham Knight is the last game in Rocksteady's Batman Arkham series of games. In this title Batman is tested one more time by Gotham's elite criminals. Aiding him in trials is the Batmobile, Robin, Nightwing, Catwoman and Oracle.