Surprise Madden 16 Cover, Details & Trailer Arrive
We're getting closer to the summer months and that means more trailers and reveals from some of the biggest franchises in gaming. This week it was EA Sports' turn to amp up excitement ahead of its Madden 16 release. This week the developer revealed a shocking addition to its slate of cover athletes plus gave Xbox One and PS4 owners their first look at the game. We're also getting a taste of some of the new Madden 16 features.
EA revealed the new Madden 16 cover and new Madden 16 trailer in dual posts late last night on it's Madden blog. Who'll be on  Madden 16 cover is almost attracting more attention than the video game itself is. Even when faced against Rob Gronkowski, Odell Beckham Jr. was able to eek out enough votes and fan response to become the cover athlete for Madden 16 when it launches on August 25th. In the cover photo for Madden 16 you can see Beckham Jr. with his hand out, completing what had to be a pretty long pass. Beckham Jr. plays for the New York Giants as a wide receiver, which is why his stance on the cover makes sense.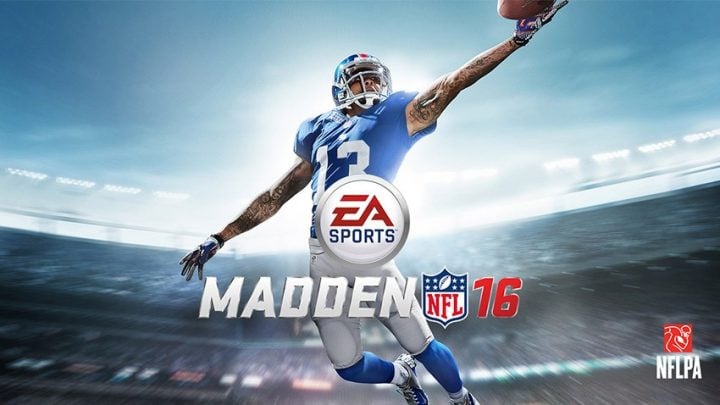 The new Madden 16 trailer doesn't exactly reveal a lot about the upcoming game that we didn't know already. Madden is a full-on football simulation and the video doesn't do much to change your perception of what that means. Amongst a sea of black, different players slowly step forward to reveal their helmet numbers and jerseys. Spread through the video are wide receivers pulling off major plays in the game, which looks amazing thanks to what appears to be another serious graphics update. The Madden 16 trailer highlights catches because passing plays are a big part of the reason EA hopes franchise lovers will pick up Madden 16. It is worth noting that the in-game footage for Madden 16 in this trailer is running on Microsoft's Xbox One console.
For Madden 16 EA Sports is keeping a narrow focus, improving the core experience in areas where it makes the most sense. The developer is encouraging players to push their skills to new heights and "be the playmaker." There are new tools to assist with that, detailed in a separate blog post' this week.
Quarterbacks touch and roll out passes allow players to be more precise with their throws than they ever could before. Also added are what EA describes as "body-relative throws." To make those throws worth while Madden 16 has a new system that rewards or punishes players for the risks they take with each pass. Those on defense will appreciate the new Madden 16 pass-defend system.
Recording yourself pulling off seriously ambitious gameplay has become something of a pass time for current-generation console owners. Everyone wants to be the hero and they need video footage of them being a hero to share with their friends. Both the Xbox One and PS4 have built-in video recording systems and it looks like EA Sports is planning to build on top of them both with what it calls Playmaker Broadcasts. Madden 16 buyers are able to stitch together a reel of all of their highlights using all the game's camera angles.
Connected Franchise mode is back and so are the granular controls for General Managers. So Is Ultimate Team. This year Ultimate Team players get access to both current and former football legends, team playbooks and Head to Head seasons using online servers.
Madden 16 will come in two flavors. Those who pre-order the basic $60 with no extras get an extra $15 in credit to use with the Madden Ultimate Team game mode. That $15 credit includes access to the Playmaker Pack and Elite Packs that are filled with advanced players. A Madden 16 Deluxe Edition is coming for $69.99. It'll include 36 Pro Packs and a single Playmaker Pack.
Retailer GameStop already has versions of the game available for pre-order for the Xbox One, Xbox 360, PS4 and PS3.

As an Amazon Associate I earn from qualifying purchases.