Surprise Star Wars Battlefront Release Extras Detailed
Stars Wars Battlefront, the all-new arena game coming to Microsoft's Xbox One and Sony's PS4 consoles, hasn't been shown in full yet. Still, we are already learning more about the Stars Wars Battlefront Deluxe Edition that will include nifty extras.
Online retailer Amazon posted Star Wars Battlefront Deluxe Edition pre-orders this week, revealing the things coming to those who purchase that version of the game instead of the standard digital and disc version that'll cost $60. Star Wars Battlefront is a reboot of the classic battle arena game set in the Star Wars universe from the last decade. Besides being a soldier, players can look forward to air battles in the atmosphere of different planets.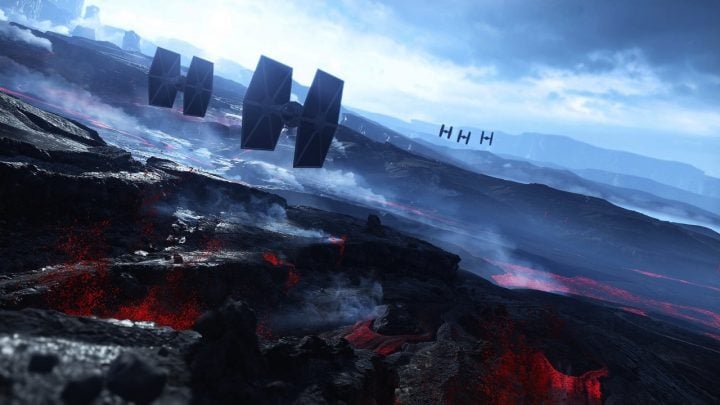 For $69 Star Wars Battlefront Deluxe Edition buyers get DL-44 blaster to use in the game. The DL-44 is the weapon of choice for Han Solo, a member of the rebel alliance during the first set of Star Wars films. Solo is back for Star Wars: The Force Awakens, which arrives in theaters late this year. Buyers also get an Ion Grenade that deals out a lot of damage to both enemies and their vehicles. The Ion Torpedo does the same, but guides itself instead of the player aiming it.
Read: Star Wars Battlefront Details Arrive
Star Wars Battlefront Deluxe Edition buyers get two special "emotes," which are really short for emotions. The Ion Shock Emote, as developer Dice and Electronic Arts are calling it, will be exclusive an exclusive of the Deluxe Edition of the game, meaning there'll be no way for players to ever get it separately. Players also get a Victory Emote that includes fist-pumping when they win a battle.
Even the upcoming movie ties into the Star Wars Battlefront downloadable extras. Anyone who pre-orders the game at any retailer gets access to a special Jakku add-on on December 1st. To be clear, anyone who purchases the game will get the add-on, but pre-orders get access a full week earlier than anyone else. The Jakku add-on will include two additional maps to battle in.
Star Wars Battlefront will let players switch between first-person and third-person camera angles, meaning they can go from seeing through a characters eyes, to seeing how their character moves and behaves from behind them. Online multiplayer is the focus of the game it seems, but there'll be offline content for those who prefer to enjoy the game on their own.
Star Wars Battlefront could be this holiday season's must-have title. The game launches on November 17th, and leaves older consoles behind so that it can deliver better graphics and gameplay. Mostly, the experience seems split into two categories: ground and air. With the ground combat players take two classic planets from the franchise like Endor Tatooine and Hoth to battle the Galactic Empire and the Rebel Alliance alike. Besides moving on foot, Dice is promising vehicles from the franchise, like speederbikes, and AT-AT walkers. Darth Vader and bounty hunter Boba Fett are both confirmed for the game.
Many of the space fighters players know and love are included in the air combat for Star Wars Battlefront, but players actually never leave the atmosphere of a particular planet. Besides Amazon, GameStop is also now offering pre-orders of all three versions of Star Wars Battlefront. Pricing is exactly the same and so are the extras included with the Deluxe Edition. Again, Star Wars Battlefront will act as bait for the latest consoles from Microsoft and Sony. It won't be coming to the Xbox 360 and PS3, meaning players will need to factor in the cost of getting a new console if they decide to pre-order.