Surprise Star Wars Disney Infinity 3.0 Starter Pack Revealed
Disney Infinity, the game that takes characters from around the Disney universe and allows players to drop them into a sandbox using a small figurine, is expanding even more than previously believed. Overnight an e-commerce website revealed a Disney Infinity Star Wars Starter pack for Disney Infinity 3.0.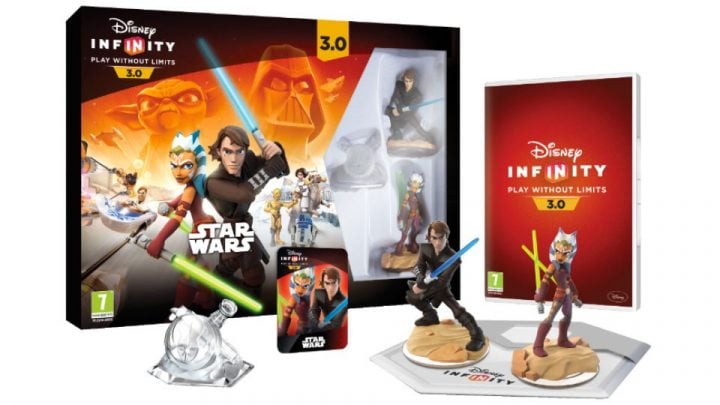 Details about the new Star Wars set for Disney Infinity 3.0 were found at Saturn, a popular online German retailer. The set in question isn't just a normal figurine pack for the game, but a complete Starter set that comes with a copy of Disney Infinity 3.0. Included in every Disney Infinity Star pack thus far has been two figures to get users started in the game. The Star Wars Disney Infinity 3.0 Starter Pack is no different. It comes with Ashoka and Anakin Skywaker, two characters last seen in Star Wars: The Clone Wars.
The website leak lists the Star Wars Disney Infinity 3.0 Starter Pack for 69.99 euros. That roughly translates to around $79. The site also lists the Star Wars Disney Infinity 3.0 Starter Pack as being available for shipping this coming August, which is surprising given that Disney Interactive hasn't yet detailed the game.
Disney Infinity is a virtual sandbox game and adventure game all in one. Different play sets have their own campaign that are specifically tailored to their theme. Placing the characters on the digital pad included with Disney Infinity unlocks extras. Toy Box Mode is all about empowering creativity. Players can use the different playsets and figures that they have to unlock more items for Toy Box mode. Toy Box doesn't have a distinct campaign, but lets players create whatever they want. There's some online multiplayer for this mode too, letting Disney Infinity players experience the playsets and extras that other gamers have that they don't.
Disney Infinity 2.0 improved on those two modes by adding new levels, increasing how big a world could be created in Toy Box mode and adding tons of new characters. It was Disney Infinity 2.0 that added Marvel characters to the game. Included in the Disney Infinity 2.0 starter pack are Merida from Brave and Stitch from the movie and television show Lilo & Stich.
News of Disney Infinity 3.0 coming first leaked in early April after another online retailer posted information and details about the game and related figures.
In that leak we learned that Ashoka and Anakin Skywalker from the Disney Infinity 3.0 Starter Pack will be joined by characters from across lots of Disney's different franchises. Classic Disney character Mickey Mouse is being added to the game with the release. So too is Mulan, one of the more recent Disney princesses to make her début. Sam Flynn and Quorra from Tron Legacy will have Disney Infinity 3.0 figures too.
Read: Forbidden Disney Infinity 3.0 Details Arrive
Disney Infinity is just one of a group of games that use physical characters as a way for players to interact with their in-game world. Skylanders was the first game in the genre. Disney Infinity followed it, with Nintendo introducing its own Amiibo action-figures most recently. Warner Brothers Interactive and Lego are set to join the craze in time for the holiday season with an entry of their own. Called Lego Dimensions, players will get characters inspired by other franchises like Batman, The Wizard of Oz, Lego: The Movie and the Lord of the Rings.
Read: Are Lego Dimensions the New Amiibo & Skylanders Craze?
Presumably, we'll hear more about Star Wars characters for Disney Infinity 3.0 at this year's Electronic Entertainment Expo in June. For sure, Disney has to have other characters from Star Wars: The Clone Wars on the way. On the box for the leaked Starter Set are Yoda, R2D2, Darth Vader, Darth Maul, Obi-Wan Kenobi, Princess Leia and C3PO.

As an Amazon Associate I earn from qualifying purchases.