Surprising iPhone 6 Release Date Rumor Emerges
A new iPhone 6 release date rumor offers hope for an iPhone announcement in mid-September, raising questions about earlier iPhone 6 release date rumors that centered on September 19th.
This latest rumor is tentative, and depends on the progress Apple makes on testing and production for the iPhone 6. Recent reports indicate Apple is ready to start iPhone 6 production and plans to order double the number of iPhones sold last quarter for the iPhone 6 release and launch.
Apple normally offers a new iPhone in the fall and the latest iPhone 6 release date rumor reports include multiple sources claiming Apple will sell the iPhone 6 on September 19th. We've also heard that Apple plans an iPhone 6 release date on September 25th in China.
In a lengthy new report Mark Gurman of 9to5Mac outlines the progress towards an iOS 8 release date, details on the potential for two iPhone 6 screen sizes at a September event and most important — plans for an iPhone 6 event that could tip the iPhone 6 release date.
Apple normally announces a new iPhone mid week and then follows up with a release on a Friday about a week-and-a-half later. Although history shows this schedule is one Apple follows, the company changed a key detail in 2013 dropping iPhone preorders for the iPhone 5s.
According to sources briefed on Apple's plans, Apple wants to hold an iPhone 6 event in the second or third week of September. Gurman clarifies that the sources offer this as a tentative plan, that may change based on any manufacturing issues or timing delays.
If Apple is able to schedule the iPhone 6 announcement during the second week of September, that would still allow for the typical window between announcement and an iPhone 6 release date for Friday September 19th. This matches with current rumors, from less vetted sources.
An even in the third week of September would make a September 19th iPhone 6 release date unlikely, but could play into a release the following Friday. This is still inside Apple Q4, allowing the company to book the first weekend of iPhone 6 sales before closing out the fiscal year.
Even though Apple is known for the short period between announcement and release, it is possible that they could speed things up this year. HTC announced the HTC One M8 and released it on the same day, something not typically done with smartphones.
One driving force that could tempt Apple to push forward with a fast iPhone 6 release date is the arrival of the Samsung Galaxy Note 4. The Galaxy Note 4 announcement could take place on September 3rd or 4th, during which time Apple could steal some thunder by sending press invites for the new iPhone event to take place in the second week of the month. This timing would also make it easier to deliver an iPhone 6 release date before the Galaxy Note 4 release which is possible in late September or early October.
Read: iPhone 6 vs Galaxy Note 4
With a bigger screen on the iPhone 6, more shoppers may decide to compare the two devices this fall. Apple is also reportedly working on a 4.7-inch and a 5.5-inch iPhone 6. The larger iPhone 6 would directly compete with a 5.7-inch Galaxy Note 4. Samsung is already mocking iPhone 6 rumors in a new ad.
Samsung may catch a break this fall, as Gurman's sources indicate the 5.5-inch iPhone 6 announcement may not be made at the same time as the 4.7-inch model in mid-September. The 4.7-inch iPhone 6 is further along in the process, which echoes reports that the largest iPhone 6 may not come until later in the year.
iPhone 6 rumors center on two iPhone 6 screen sizes, an updated Apple A8 processor and a new camera. The camera details are still up in the air. We expect a new design for the iPhone 6 that includes rounded corners and more curves on the sides of the device.
Top 5 Phones to Consider Before the iPhone 6 Release [July, 2014]
LG G3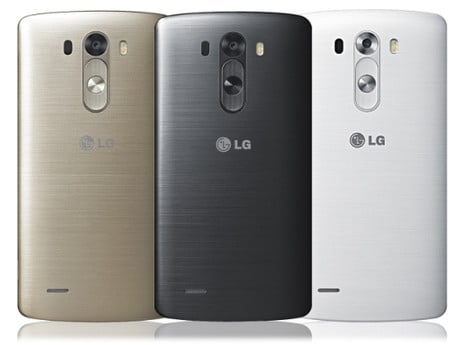 Earlier this month, the LG G3 arrived in the United States. And while it didn't receive the same fanfare as the HTC One M8 and Samsung Galaxy S5 did earlier this year, the LG G3 might just be better than the both of them.
LG's G3 is an impressive specimen and a device that we consider one of the best smartphones on the market. In our eyes, it might just be the best Android has to offer. That alone makes it worth checking out.
However, the fact that consumers can now get this device for $100 on-contract, or $100 less than the expected iPhone 6 price, makes it a device worth looking at this month. Even those who go into a store, take a look, and walk out empty handed will be doing themselves a service. This device will truly be one of the iPhone 6's top competitors.

This article may contain affiliate links. Click here for more details.