Switching Mobile Printers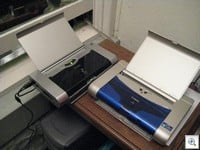 Just when we thought we'd gotten a handle on our Christmas shopping and checked off everything on the list the inevitable happend. A key piece of our technology failed. I've been using a Canon i70 portable printer for about 5 years now and it has served me well. At home it is our only printer, as we don't do much printing there. But when I travel to audition conferences it has tagged along as a part of my mobile office and proven invaluable at times.
What's been great about the Canon i70 is the battery that allowed me to leave a plug at home. I've never run out of juice when on the road. It is also the only device I've ever used InfraRed technology with as it has an IR port. Beaming documents directly from the device to be printed saves lugging one extra USB cable.
But sadly, when my wife went to print out a few things the other night, it died the way all printers die eventually. You know the sound. No sound. You turn on a printer and instead of the usual sounds there is silence. Beyond the inconvenience, I can't complain really. We've gotten more than the $280 or so we invested in the printer over the years (adding up the Ink costs is another issue.)
I quickly got online and started searching for a new portable printer. Canon has had several different generations of this form factor over the years, and the current one is the Canon Pixma i90 (affilate link.) It was running around $250 most places, but Amazon had it on sale for $179. So I jumped at that, paid the $30 for overnight shipping and it arrived on Friday. The i90 is a bit lighter than the i70 and prints a little, but not marginally faster. For my needs when I'm on the road that isn't really an issue, so I'm pleased. The Pixma i90 also has an optional BlueTooth module, which I might pick up, given that none of my computing devices now have an IR port.
I'm guessing that the i70's battery won't work with the i90. I've been searching online for info on that without much luck. (If anyone knows differently let me know.) So, I'll most likely have to pick up a battery for the i90 before the first audition confernce in February to take advantage of using it in my mobile arsenal. But in the meantime, crisis averted. We just picked up another Christmas gadget and life has returned to normal. (In the picture above the i70 is on the right, the i90 is on the left.)

As an Amazon Associate I earn from qualifying purchases.