Synaptics Introduces Force As New Dimension of Touch With ForcePad
With the launch of Windows 8 around the corner in October, Microsoft partner Synaptics, which has been known for its touchpad and creating touch screens on a variety of mobile devices, is showing us how the touchpad–or trackpad–is being re-imagined for touch. Not only will the click pads on laptops and ultrabooks for new Windows 8 devices get bigger–to accommodate swipes and gestures in a UI that's largely been developed from the ground up for touch environments–but Synaptics is hoping that a next generation of touchpad, dubbed the ForcePad, will actually help users fine-tune and add more gestures to their lives by leveraging the power of force as another dimension.
I met with Synaptic's Bob Shirley at the company's Santa Clara, California headquarters to find out what the new ForcePad is about. With ForcePad, Synaptics is hoping to create a consistent user experience with touch through hardware. Unlike previous generation click pads and touch pads, which are sourced through different manufacturers and may provide varying degrees of responsiveness and feel even on two different laptop models of the same product, ForcePad can be sourced directly through Synaptics and is a one-piece solution with no moving parts.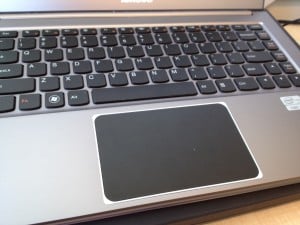 With the ForcePad, there are no moving parts. Users can swipe, touch, and click by pushing hard down onto the ForcePad where pressure would be registered with up to 1,000 grams of dynamic range in force sensitivity. This is different from today's click pad solutions, like that on Apple's MacBook lineup, where there is a movable hinge and a mechanical click would be registered and felt on the click pad. ForcePad just registeres pressure, but does not provide a mechanical click.
To simulate the mechanical clicks, Synaptics will be using visual images, sounds, and other feedback mechanism to trick the brain into thinking that mechanical action is happening.
The great part about ForcePad extends beyond just clicking. Users can, for instance, swipe to scroll, like they do today with technologies like two-finger scrolling. But once they reach the end of the trackpad, ForcePad allows them to just push down hard to continue scrolling faster, or register little force to continue scrolling but at a slower pace.
The same can be down with attenuation, such as sliding controls for volume or brightness.
Best of all, ForcePad takes up less room on a notebook, allowing manufacturers to build thinner ultrabooks or laptops with beefier specs or larger capacity batteries.
Other applications for ForcePad include gaming and Synaptics says that it is working with independent software vendors to create third-party apps and games that leverage the ForcePad technology. ForcePad will begin to appear in the next generation of laptops and ultrabooks starting in 2013.