Syrian Electronic Army Goes on Hacking Rampage
As a way to apparently ring in the new year, the Syrian Electronic Army has been making its way through Microsoft's various websites and social media accounts, first hacking into Skype's Big Blog and the IM service's Facebook and Twitter accounts as well.
About a week or so later, the Army hacked into Microsoft's blog and the company's main Twitter account. And just yesterday, the Xbox Twitter account was hacked into. Obviously, there's a pattern here, being that Skype and Xbox are both Microsoft products, and the Syrian Electronic Army seem to be trying to get a message across that Microsoft takes user data and sells it to the government, as posted on the Skype blog by the political activist group.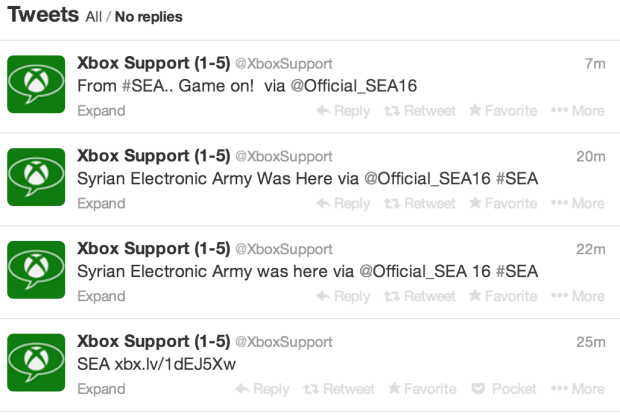 Skype was the first to get hit on January 1, with it's Big Blog being taken over by the group, as well as Facebook and Twitter accounts of the chatting service. The Army posted on all three accounts with warnings to users not to use Microsoft products, as the company sells the data to the government. The posts have since been removed, though, and Skype acknowledged that it had been hacked, but said that "no user information was compromised."
After that, the group hacked into Microsoft's blog and Twitter account, posting redirects to the group's own website and retweeting SEA tweets. Again, though, the retweets and the blog posts have since been deleted, but the damage had already been done at that point.
However, the SEA didn't stop there. Just yesterday, they hacked into Xbox Support's Twitter account, posting tweets saying that the "Syrian Electronic Army was Here." The tweets have since been deleted and chaos has returned to order, but not before the SEA and other onlookers took screenshots of the group's exploits.