T-Mobile Binge On: Video Services, Details & More
T-Mobile USA's now infamous series of Uncarrier moves have forever changed the mobile landscape. By introducing what it describes as consumer-friendly options and add-ons, T-Mobile has grown larger and managed to turn a steady profit. T-Mobile Binge On was such an Uncarrier move. The company said that the still new system would free users of all types from data overages.
The world is quickly moving to embrace digital video. Broadcast networks, cable channels and even cable providers have their own dedicated iPhone and Android apps. The iPhone and device's running Google's Android operating system all have built-in apps for purchasing new video content. Netflix is more popular than it has ever been. Enjoying these services on the go has always been a bit dangerous. You can easily burn through your data package in a matter of hours streaming video content. With Binge On, T-Mobile is making it possible to avoid running out of data video streaming by deciding not to count streaming video towards monthly data allotments at all.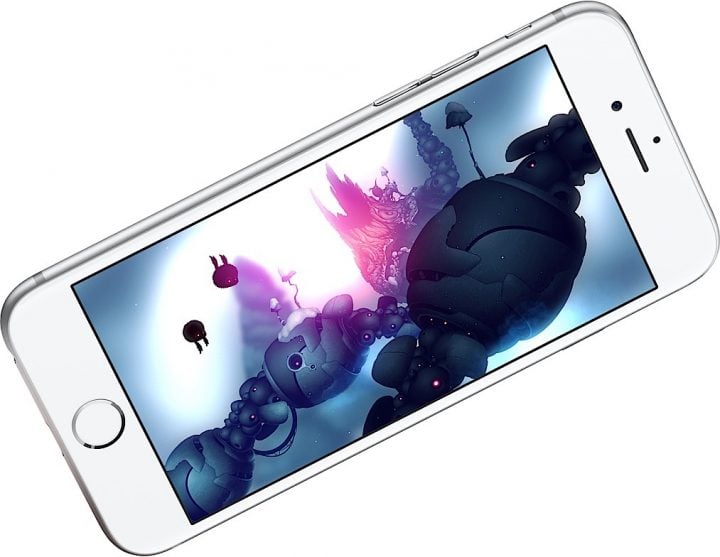 Read: AT&T vs. T-Mobile – All the Things That Matter
How T-Mobile Binge On Works
T-Mobile Binge On is part technology solution, billing trick and marketing campaign. T-Mobile has spent the better part of the last half-decade building out its LTE network. Binge On is a way to show off the breadth of that network in a way. You get to watch Netflix, Hulu Plus and other services without worrying about how it'll impact your bill. Other wireless services still count video streaming as part of your data usage.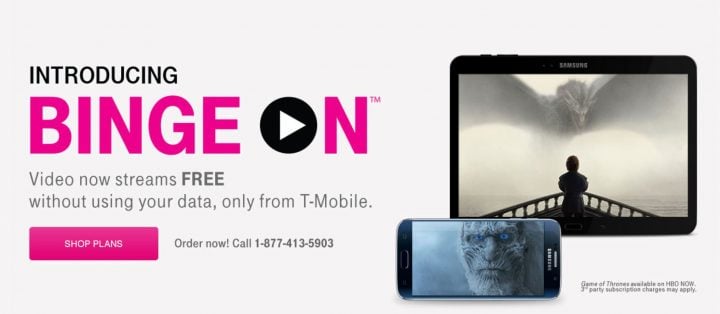 Read: 3 Things to Know About T-Mobile & Uncarrier Before You Buy
It's a trick T-Mobile tried a few years ago when it introduced Music Freedom for customers. Music Freedom allows anyone to stream from a popular music services without fear that running those streams for too long will have a big impact on their data allotment.
The key to both programs is the way that T-Mobile makes data available. The wireless company has a truly unlimited data plan, but the majority of its plans rely on high-speed data buckets. No one on the network runs out of data, but they can run out of high-speed data. When this happens, T-Mobile slows them down to a trickle. Users are less likely to max out their data allotment because Binge On decreases the amount of data that video streams consume.
Video optimization is what makes Binge On possible. Every video service worth subscribing to or using offers 1080p high-definition automatically. Binge On scales high-definition video down to around 480p. Video looks less crisp than they would if Binge On wasn't scaling their resolution down. That's been one of the main complaints leveled at Binge On. iPhones and Android devices have screens that are only getting more crisp. By leaving Binge On enabled, smartphone owners aren't taken maximum advantage of their device's display.
T-Mobile's argument is that saving users data is a bigger deal than the lower resolution streaming.
T-Mobile Binge On Unlimited Video Streaming
Lots of people tend to confuse Binge On with unlimited video streaming. The two are linked, but users aren't necessarily getting both.
Everyone gets the data savings that Binge On provides, but not everyone gets the unlimited video streaming benefit of the program. For your account to get unlimited video streaming, you need to have a plan with at least 3GB of video data or more.
T-Mobile Binge On Services
To make the feature possible, T-Mobile works directly with video streaming companies. The company developed software and network upgrades to cut down on the amount of data video services take up. Because of this, not just any service is compatible with Binge On. The company does take suggestions for new services to add to the program though.
120 Sports
A&E
Amazon Video
tv
Beable Music
Crackle
Crunchyroll
CurosityStream
Dailymotion
Dailymotion Games
Direct TV
Discovery GO
Encore
EPIX
ESNE
ESPN
Eyegroove
Fandor
FilmON TV
Fox Business
Fox News
Fox Sports
Fox Sports Go
Fubo TV
FYI
Go90
Google Play Movies
Google Play Music
Great Big Story
HBO Go
HBO Now
History
Hulu
TV
Kiswe
KlowdTV
Lifetime
Lifetime Movie Club
Ligionier Ministries
Major League Baseball
Movieplex
NBC
NBC Sports
Netflix
Newsy
Nick
Noggin
ODK Media
OVGuide
Ownzones
PBS
PBS Kids
PlayStation Vue
Qello Concerts
QKids
Radio Disney
Red Bull TV
Showtime
Showtime Anywhere
Sling Box
Sling TV
Spike
Spotify
Starz
Tennis Channel Everywhere
Tidal
T-Mobile TV
Toon Goggles
TV Land
Univision
Univision Deportes
Univision Noticias
Univision Now
Ustream
Vessel
Vevo
Viki
VUDU
WWE Network
YipTV
YouTube
YouTube Gaming
YouTube Kids
YouTube Music
YouTube Red
Where to Switch on T-Mobile Binge On
For T-Mobile Binge On to be truly effective, the carrier needed as many people as possible to adopt the feature. Rather than let users adopt it naturally, the company decided to be very aggressive. Everyone on T-Mobile's network has Binge On enabled automatically. If you've noticed a significant change in video quality on your device, that is why.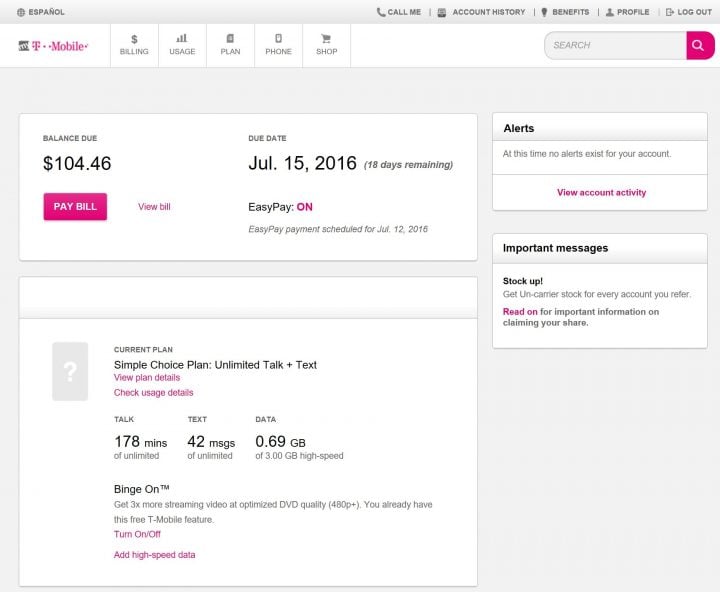 Complaints about enabling the feature for everyone have driven the company to make some improvements. First, T-Mobile made the program easier to opt out of. There are switches and toggles in each of the company's apps, plus another available online through the My T-Mobile area. Second, T-Mobile Binge On now gives video providers customization options on their end, which is how the service was able to finally get Google's YouTube streaming service to join the program.
Read: How to Turn Off T-Mobile Video Throttling
Good luck with T-Mobile Binge On. Hopefully, the feature catches on and other companies are able to offer it as an option. Data usage will only continue to increase as more users turn to their phone for media streaming.

As an Amazon Associate I earn from qualifying purchases.