T-Mobile BlackBerry Bold 9900 Coming Soon, But Without Key Features
While we've gotten the official details regarding Sprint and Verizon's version of the new BlackBerry Bold, we're still waiting on word about AT&T and T-Mobile's Bold 9900. We have a feeling we'll be seeing AT&T's on or around August 21st and we've seen a rumored August 31st release date for T-Mobile's device but it appears that we might even see it sooner than that.
A leaked document from TMoNews indicates that T-Mobile is expecting the Bold 9900 to launch "soon." August 31st is soon as is tomorrow. At the very least, this is a good sign that things are in motion and we won't see any delays.
Not everything is sundaes and rainbows though.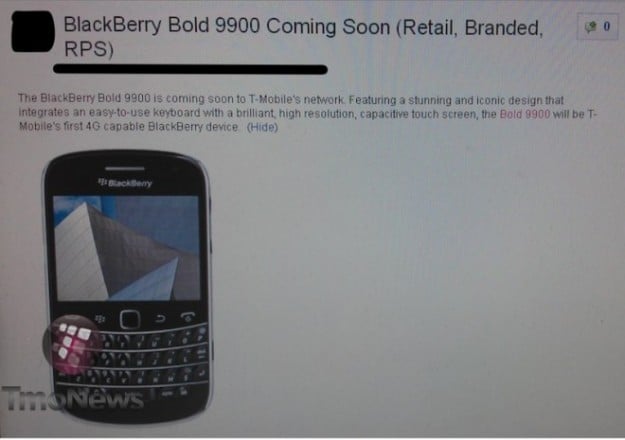 The document also suggests that the Bold 9900 will arrive without mobile hotspot support, Wi-Fi calling or UMA. If that's true, that puts T-Mobile's device at an extreme disadvantage and if it too costs $250 like the rest of the new Bold devices, I don't see this launch doing well. It's likely that these features will come in a future software update but nothing is guaranteed right now.
Let's just hope T-Mobile makes some sort of pledge on launch day or very soon after and then follows through.
Would you buy a T-Mobile Bold 9900 without those three features?