T-Mobile Brings Money-Saving Plans Back to Stop the "Hate"
T-Mobile is once again using its money-saving tactics and brash bravado to lure customers away from Verizon and AT&T Mobility. Yesterday the fourth-largest carrier revealed plans to bring back the promotion that awarded a family of four unlimited calling and 10GB of data for $100 a month. It's also introducing unlimited everything plans for two users that starts at $100.
As a press release made available last night indicates, T-Mobile is using a two-pronged approached to attract customers and help them save during the holidays.
The Unlimited 4G LTE plan is what they're pushing the hardest. For a limited time T-Mobile will let users sign up for two-lines of with Unlimited calling, texting and data for $100. Users can then add two more lines on top of that for an extra $40 per line. Users will get to keep this pricing and the Unlimited plan for as long as they want – provided that they don't make any changes to their account.  A chart included with T-Mobile's press release indicates that getting the same kind of service would cost $320 on Sprint, excluding that carrier's exclusive iPhone plan, $360 on Verizon and $210 on AT&T Mobility.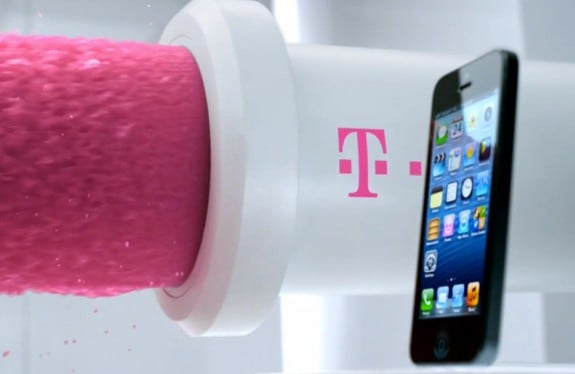 Previously, T-Mobile offered a family plan for a limited time that included four lines with unlimited calling, texting and 10GB of data for $100 a month. The plan attracted so much attention because it was a prepaid, saving families from overage charges. For a limited time, that plan is back. For a family of four, the $100 10GB data plan is a steal. Though, there is a catch. This is a limited time promotion. In 2016 T-Mobile says users who choose this plan will go from having roughly 2.5GB of LTE per line to 1GB of data per line. Essentially, in 2016 T-Mobile will cut the amount of data available for families with this plan to just 5GB for everyone to share.
According to T-Mobile, bringing back these plans was important because "75% of people 'hate' monitoring their families data usage on carrier's confusing shared data plans." To an extent, the Unlimited 4G LTE plan for two people for $100 does this. Whether the 4 Lines for $100 a month plan does the same, remains unclear.
T-Mobile began rolling out these sorts of plans and speaking directly about consumer worries in the wireless space shortly after the FCC made it impossible for AT&T to buy the company and merge it with its already large wireless operations. T-Mobile calls the consumer-friendly moves it has made in the last two years UnCarrier, because it's hoping that everyday wireless customers will think of it as a company that is looking out for their best interests.
Read: Why Switch to T-Mobile? Jump UnCarrier & More
What T-Mobile doesn't make clear in its information about either limited-time deal is that T-Mobile has decoupled the cost of buying a smartphone from its data plans. This allows customers to upgrade smartphones whenever they want and pay less for wireless service itself.
This also means that users are stuck financing the cost of a device on T-Mobile. Say a user wanted two iPhone 6 devices to use with that $100 unlimited plan. Financing an iPhone 6 on T-Mobile means $27.08 in monthly payments for 24 months on top of the costs of a plan. Because of this, the true cost of owning to iPhone 6 devices on T-Mobile is actually $154.16, not the $100 that T-Mobile indicates it is. That pricing doesn't include phone insurance or taxes. Really, the pricing T-Mobile shared is only for those who already have a phone they'd like to use on T-Mobile or plan on paying full-price for any devices they use on T-Mobile when they sign up.

This article may contain affiliate links. Click here for more details.