T-Mobile Hosting Sale on Every Smartphone and Tablet on September 24th
T-Mobile has announced that it will be discounting every single smartphone and every single tablet in its arsenal on September 24th. And yes, if you're looking for a mobile broadband device, those will also be on sale as well. T-Mobile's sale is an effort to mark the arrival of its new Value plans. Now, unfortunately, there is a catch to T-Mobile's expansive sale.
You will have to pair your purchase with a T-Mobile 2GB Unlimited Value data plan or higher. Luckily, there isn't a device that is going to cost you over $100 so this is definitely a sale, despite the contract drawback, to keep an eye on.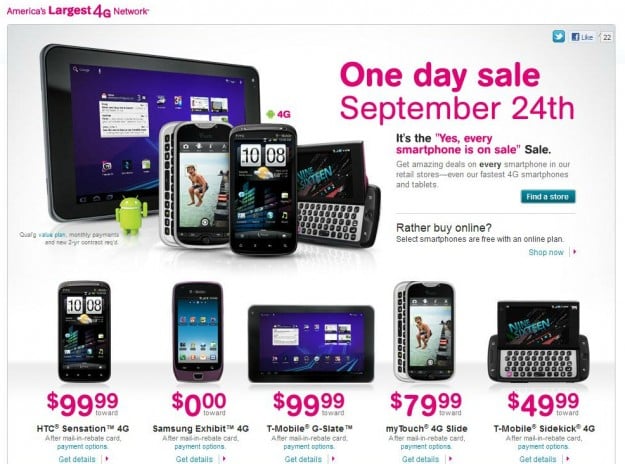 T-Mobile is going to be offering up the T-Mobile G-Slate tablet for $100 after a $200 mail-in rebate. It's going to have the HTC Sensation 4G on sale for $100 after a mail-in rebate. And finally, it'll have the new BlackBerry Bold 9900 available for $100 after a mail-in rebate.
Of course, those are just small samples of T-Mobile's lineup. To check out the rest, you can head over here to T-Mobile's website and have a look at full list of the carrier's discounted devices .

As an Amazon Associate I earn from qualifying purchases.