T-Mobile HTC One X+ Shown In Benchmarks?
A recent NenaMark2 benchmark seems to show a new HTC One X model that might come to T-Mobile in the near future.
According to Unwired View, the benchmark shows the HTC One X+, which identifies itself as the HTC PM63100 to NenaMark2. The device uses the Nvidia Tegra 3 like the international version of the HTC One X. Unlike the One X, however, the HTC One X+ uses the Tegra 3 clocked at 1.7GHz, which is faster than any other we've heard of.
T-Mobile can use the Tegra 3 in the One X+ because it doesn't have a 4G LTE network to worry about. The Tegra 3 processor doesn't support on-chip 4G LTE yet, which is why HTC had to switch to the Snapdragon S4 for the AT&T version of the One X.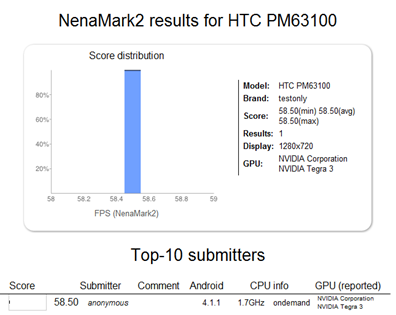 The HTC One X+ in the benchmark is also listed as running Android 4.1.1, whereas the One X only supports Android 4.0 Ice Cream Sandwich at the moment, though HTC will soon update it to Jelly Bean. That could mean HTC is preparing to launch the first new non-Nexus Jelly Bean phone on T-Mobile, or any U.S. carrier.
We assume the phone will still have Sense 4 on top of Android, but we're not sure if HTC will make any changes to the skin HTC recently hinted at a voice control service like Siri, but that was before Google announced Google Now. We hope HTC includes Google Now instead of replacing it with something else.
We're interested in seeing what HTC and T-Mobile do with this phone, if it does indeed come to T-Mobile. AT&T and Sprint already have variations of the One X with 4G LTE, T-Mobile can only hope to compete with those phones by offering one with beefier specs, but we're not sure if that's enough.