T-Mobile iPhone 5s Drops to $0 Down for the Holiday
As we suspected, T-Mobile is dropping the down payment for the iPhone 5s, meaning that you can get the new device at no up-front cost when you sign on with T-Mobile. The iPhone 5c, iPad Air and iPad mini with Retina display have also gotten their down payments dropped on T-Mobile.
There is a slight catch, though. In order to take advantage of the zero down payments, you'll have to opt for T-Mobile's  24-month Simple Choice Plan, which will require you to pay $27 per month for the iPhone 5s $22.91 for the iPhone 5c, $26.25 per month for the iPad Air and $22.08 per month for the iPad mini with Retina display.
This means that you're still paying $648 for the iPhone 5s after it's all said and done, so you're not saving any kind of cash with this deal. Whether or not T-Mobile is trying to trick its customers into thinking they're saving money by not having to make a down payment is a mystery, but the "deal" here is that you won't be required to lay down a chunk of a down payment when you get a new phone from the carrier, which you would normally have to do.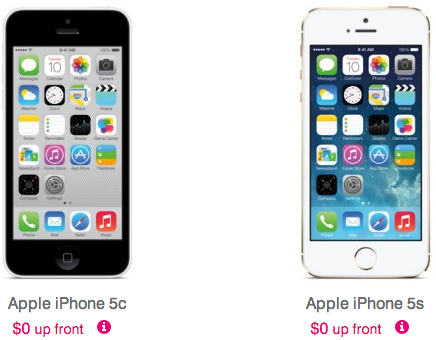 Sadly, this deal is only good for the 16GB versions of the iOS devices, so if you're wanting a higher-capacity device, you won't be able to take advantage of the zero down payment.
T-Mobile first introduced its $0 down payment deal on Black Friday, where you could get a new iPhone without paying any money for it up front (just the cost of the service plan). This time, though, the carrier is opening it up for the holidays so that folks can get their loved ones an iPhone without paying much up front (and isn't a $0 down payment what America is really all about?).
If you weren't aware, T-Mobile recently did away with contracts, and now all of its subscribers are on off-contract plans, meaning that all customers have to buy their smartphone at full cost, which may seem intimidating, but you won't be nailed down to a two-year contract, and T-Mobile lets you pay for that phone with monthly payments so that you're not shelling out a bunch of cash up front. This new deal just sweetens the pot even more.

This article may contain affiliate links. Click here for more details.