T-Mobile JUMP On Demand Now Available
Last week T-Mobile announced another major change to its service and how the company plans to offer device upgrades for smartphone owners, and it's called T-Mobile Jump On-Demand. Essentially the carrier is now letting owners upgrade to a new smartphone three times per year, absolutely free.
It's no secret T-Mobile has been shaking up the mobile industry with tons of changes, new policies, free upgrades and more called "Un-carrier" aiming to be different from all other carriers. However, the biggest change since late 2013 was announced last week, and it's available in stores starting today.
Read: T-Mobile Jump on Demand: What You Need to Know
A new initiative by T-Mobile to compete with AT&T and Verizon is the next wave of changes to the Un-carrier moves from the past two years, and it's called Un-carrier Amped. Aiming to amp up the changes and free options in an effort to steal customers from other carriers. Read on for everything you need to know about Jump On Demand.
T-Mobile Jump! On-Demand officially launched yesterday, June 28th. This will allow both existing customers or new users to sign up for Jump On Demand, which will allow users to upgrade to a new phone whenever they want, up to three times a year, completely free.
Those who don't like their aging Galaxy Note 3 can jump to the new Galaxy S6 or Note 4. Or if they decide to try the LG G4 that's an option, completely free. And then jump again to the iPhone 6s or Galaxy Note 5 later this fall. All for free, with no fees or taxes.
Previously the Jump plans had a $10 fee, and there was a charge to change smartphones as well, not to mention taxes and other small fees. However, with Jump On Demand there's no $10 fee, no taxes, nothing. Just 100% free upgrades for all who are interested in getting a new phone.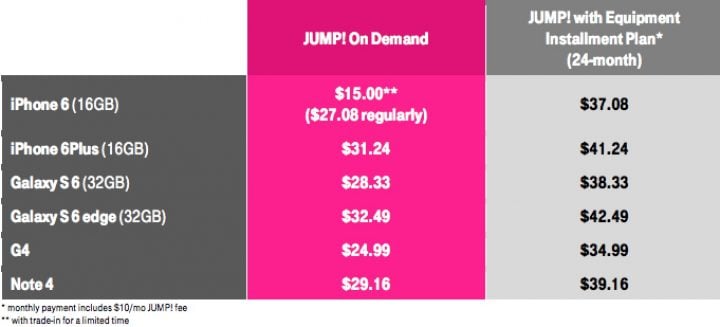 As of yesterday customers can head into a T-Mobile store and sign up for Jump. For now T-Mobile is offering the iPhone 6 or 6 Plus, the Galaxy S6 and Galaxy S6 Edge, the Note 4 and LG G4 as a part of JOD. Customers can switch to any of these brand new phones which will likely lower their monthly payments as there's now no $10 fee, and make them eligible to upgrade two more times over the next 12 months.
The link above explains everything customers need to know about Jump, but it's essentially an 18 month lease program where users will make monthly payments for a new smartphone. If they'd like to Jump to another phone, they can for free. However, you'll have to trade-in the existing smartphone, or pay off the remaining balance and it's your to keep.
Those that don't upgrade within the year, at the 18 month point will be able to upgrade to the latest smartphone, or pay the remaining balance of their current device. It's all a bit confusing at first, and those who are interested in taking part in T-Mobile Jump can get all the details right from T-Mobile's website.
What it all comes down to is users will be paying their monthly carrier bill, plus $24-$31 per month for any of the flagship smartphones mentioned above. And at any point if they'd like to switch to something else, they can completely free up to three times a year. It's a bold new change aimed at taking on Verizon Edge, AT&T Next and Sprint Easy Pay. Head to T-Mobile.com or the nearest T-Mobile retail store for more details, and to sign up now.

As an Amazon Associate I earn from qualifying purchases.