T-Mobile Jump On Demand: What You Need to Know
T-Mobile has been shaking up the mobile industry as of late with a big campaign full of changes, new policies, free upgrades and more called "Un-carrier" aiming to be different from all other carriers. And today they've announced the first big announcement of many coming soon as a part of the new Un-carrier Amped initiative, and here's everything you need to know about T-Mobile Jump On-Demand.
Today T-Mobile kicked off Un-carrier Amped, which is another new set of initiatives on top of all the changes that started back in late 2013, and helped the carrier bounce back from being bought out in 2014. The first announcement of many is "Jump On Demand" allowing customers to upgrade to a new phone up to three times a year, completely free.
With T-Mobile Jump users could upgrade to a new phone twice per year, along with a $10 fee, which caused AT&T Next, Verizon Edge, and other plans from the competition to surface, but now they're changing things again with Jump On Demand, and more announcements are coming soon. Here is everything you need to know.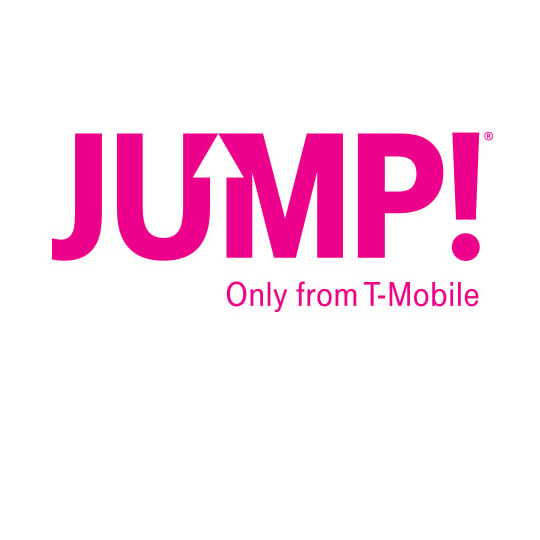 Now that all carriers are offering something similar to T-Mobile JUMP in an effort to stay relevant and keep customers from switching, T-Mobile is amping things up and taking Verizon, AT&T, and Sprint head on. Jump On Demand is the first big change, and one users need to be aware of.
Starting on June 28th customers or new users will be able to sign up for Jump On Demand, which will allow T-Mobile customers to upgrade to a new phone whenever they want, up to three times a year, completely free. Don't like the Galaxy Note 4, just jump to the new Galaxy S6. Or if you decide to try the LG G4 you can do that, and then jump again to the iPhone 6s or Galaxy Note 5 later this fall. All for free, with no fees or taxes.
Here's the latest video from T-Mobile's CEO talking about Jump On Demand, and some of the other big changes coming later this year with Un-carrier Amped. And yes, as usual, T-Mobile's CEO uses foul language.
https://www.youtube.com/watch?v=oHJUyKU3YIQ
With T-Mobile JUMP! On Demand the carrier has removed the $10 fee, removed the monthly fee, and now allows customers to get a new phone three times every 12 months instead of only two upgrades. Essentially handing people brand new flagship Android smartphones, or the latest iPhone, all with zero money down. It's an impressive change, but you'll still need to know the fine details.
The new Jump On Demand offers the latest smartphones for $0 down, and for those that don't know users are basically leasing the smartphone from T-Mobile, and its only yours to keep once it's paid off. Meaning you're paying a monthly rate for your smartphone for 18 months until the phone is paid in full, along with your monthly carrier plan.
With Jump On Demand this has been moved down to 18 months from 24, prices are lower because there's no $10 a month fee to use Jump, and customers can jump to up to three new devices per year, or simply pay off the phone after 18-months and keep it. Users who upgrade early have to return the phone (or pay the remaining balance and keep it) and will then get the latest and greatest smartphone. And yes, you can pay it off early if you'd like, and there's still insurance or device protection options for $8 a month.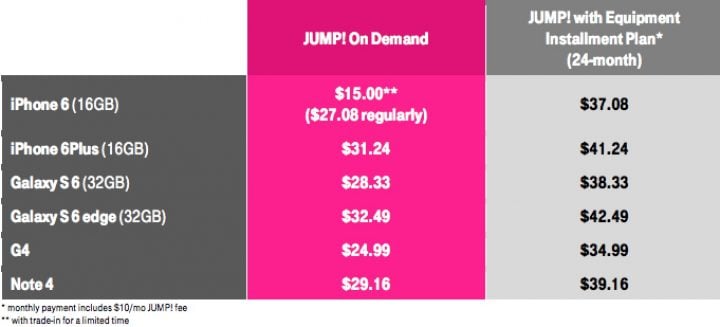 As you can see above T-Mobile Jump On Demand is a lot cheaper than the original options that other carriers have tried to match over the past year, and on June 28th will be available for the iPhone 6, iPhone 6 Plus, Galaxy S6 and Galaxy S6 Edge, Galaxy Note 4, and the new LG G4.
Users can get a new Samsung Galaxy S6 for only $28.33 a month for 18 months. Buyers can then jump three times for free at any time over the course of 12 months, or pay off the phone after 18 months and keep it. This is because $28 for 18 months is only $509, when the Galaxy S6 actually costs over $600. So at the 18 month mark users can pay it off and keep it, or jump to the next best thing completely free. This is essentially a lease program with the option to buy.
The important part of this is that after 18 months no one wants to spend $170 to pay off the remaining balance to own the Galaxy S6, and instead a new Galaxy S7 will likely be available you can jump to, absolutely free. The differences are pretty clear here. T-Mobile customers will be paying less, but essentially paying T-Mobile to lease the phone with an option to buy it later, and can always jump to another new phone up to three times a year. We'll update with more details as they're made available, if more phones are added to the Jump list, and as T-Mobile makes more announcements.