T-Mobile Launches Rocket 3.0 42 Mbps USB Modem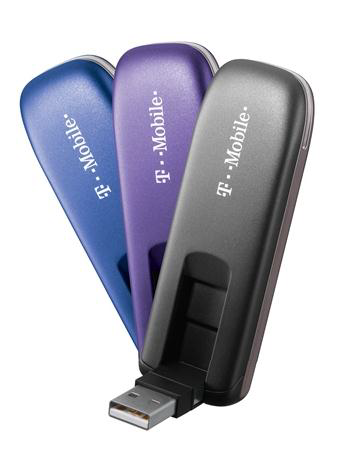 T-Mobile USA is launching its Rocket 3.0 4G USB modem as the carrier is turning on its faster 42 Mbps network in 55 markets. made by ZTE, the Rocket 3.0 modem is capable of achieving up to 42 Mbps theoretical download speeds, though usually real world speeds are lower. The device is available for $100 after a $50 mail in rebate.
The 42 Mbps network was initially announced at CES and offers speeds twice what T-Mobile USA is offering in its 4G markets. The market where 42 Mbps is available include:
Albany, Ga.; Athens, Ga.; Atlanta, Ga.; Auburn, Ala.; Augusta, Ga.; Austin, Texas; Bentonville, Ark.; Boulder, Colo.; Chattanooga, Tenn.; Chicago, Ill.; Dallas, Texas; Deltona-Daytona Beach-Ormond Beach, Fla.; Denver, Colo.; Detroit, Mich.; Durham, N.C.; El Paso, Texas; Fort Collins, Colo.; Gainesville, Fla.; Gainesville, Ga.; Greeley, Colo.; Honolulu, Hawaii; Houston, Texas; Jacksonville, Fla.; Long Island, N.Y.; Los Angeles-Long Beach-Santa Ana, Calif.; Macon, Ga.; Mayaguez, Puerto Rico; Miami, Fla.; New Orleans, La.; Oklahoma City, Okla.; Olympia, Wash.; Omaha, Neb.; Oxnard-Thousand Oaks-Ventura, Calif.; Phoenix, Ariz.; Pittsburgh, Pa.; Ponce, Puerto Rico; Portland, Ore.; Salinas, Calif.; San Francisco-Oakland-Fremont, Calif.; San Jose-Sunnyvale-Santa Clara, Calif.; San Juan, Puerto Rico; Santa Cruz-Watsonville, Calif.; Santa Rosa-Petaluma, Calif.; Savannah, Ga.; Seattle, Wash.; Spokane, Wash.; Tampa, Fla.; Tulsa, Okla.; Valdosta, Ga.; Vallejo-Fairfield, Calif.; Warner Robins, Ga., and Wichita, Kan.
The 42 Mbps update went live yesterday and the Rocket 3.0 modem is available starting today from T-Mobile stores and online.
For perspective, the AT&T Motorola Atrix 4G is capable of 14.4 Mbps on the similar HSPA+ technology that T-Mobile is currently using for its 4G network. HSPA+ is an evolution of HSPA/UMTS technology, which is the 3G technology utilized by both AT&T and T-Mobile. Verizon Wireless is currently stating–and delivering–download speeds of between 6-12 Mbps on the carrier's 4G LTE network and Sprint's performance hovers between 3-6 Mbps on 4G WiMax.
"We are continuing the aggressive expansion of America's Largest 4G Network™, and also doubling our speeds in more than 50 markets this month," said Neville Ray, chief technology officer, T-Mobile USA. "While customers with existing 3G and 4G devices will benefit from our continued network enhancements, new devices like the new Rocket 3.0 laptop stick will enable customers to reap the benefits of even faster 4G speeds."
The Rocket 3.0 USB modem is the first device to take advantage of T-Mobile's increased 4G speeds. The carrier had announced plans to deliver a total of 25 4G devices in 2011.
The 4G Rocket 3.0 USB modem will allow laptops and networks to connect to the carrier's 4G network, and comes with three interchangeable face plates and comes with color options for dark violet, cobalt blue, and matte black.

As an Amazon Associate I earn from qualifying purchases.