T-Mobile Launching Samsung Hercules in September?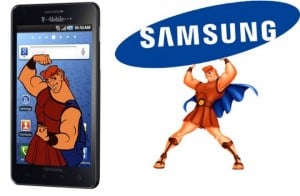 The Samsung Hercules Android smartphone may be launching this September on T-Mobile USA with an impressive, yet conflicting, array of specs. The smartphone will either be a Samsung Galaxy S II variant or a variant of the single-core, but capable, Samsung Infuse 4G found on U.S. carrier AT&T. TmoNews is reporting a late September launch for the smartphone, perhaps on September 26th.
Like the Samsung Infuse 4G on AT&T, which only packs a single-core CPU, this device will feature a 4.5-inch Super AMOLED Plus display; the 4.5-inch display size will make it larger than the 4.3-inch afforded for the Galaxy S II.
The device is said to support T-Mobile's 4G HSPA+ network with download speeds of up to 42 Mbps. If the merger for AT&T will be a go, the phone will also be compatible with AT&T's 3G/4G network as well.
The device will pack in NFC support, 16 GB ROM, 1 GB RAM, a micro SDHC card slot, 8-megapixel camera with 1080p HD video capture, front-facing camera, and micro USB support. Still up for debate is whether this phone will pack a single-core or dual-core Qualcomm Snapdragon CPU.
Via: TmoNews