T-Mobile LG G2 Arriving Starting September 18
Shortly after Verizon published their announcement on LG G2 availability, T-Mobile followed suit, announcing that their version of LG's new smartphone will launch beginning on September 18. All sales will be online only until September 25, where T-Mobile will begin selling the phone in its brick-and-mortar locations.
Since T-Mobile did away with contracts recently, the phone's price is a little bit different than Verizon's $199. T-Mobile customers can get the LG G2 for $100 down, plus 24 monthly payments of $22 per month. Or you can just buy the phone outright for a precious $630 if you don't want to mess with monthly payments.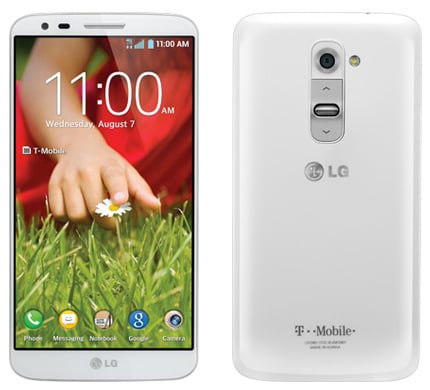 The LG G2 will come in both black and white colors, but the white version will only be available online. Both colors are available now for pre-order on T-Mobile's website, so if you're dead set on getting the G2, now would be a good time to reserve your unit before they get gobbled up.
The G2 is the successor to LG's Optimus G flagship, and it sports a new Qualcomm Snapdragon 800 processor, clocked at up to 2.3GHz, with 2GB of RAM and a 13-megapixel camera on the back. The device also features a large 5.2-inch IPS display with a full 1080p HD resolution, which should make any screen junkie jump up and down with excitement.
Read: With No G2 Google Play Edition, LG Emerges Confident in Its Custom UI
The phone also has its buttons on the back of the device rather than on the sides. The volume rocker sits just below the camera module in the center, where the tips of your fingers are most likely to rest. LG says this makes for a better ergonomic setup, seeing as your fingers rest on the back of the device in the first place.
T-Mobile also announced availability and pricing for LG's budget-friendly Optimus FG, which sports a smaller 4.5-inch display and a 5-megapixel camera. It costs just $50 down, or $290 at full retail price, and will be available starting on September 11.
So far, Verizon has the earliest launch date for the G2, as it's rumored that AT&T will launch the phone on September 13, which is just a day after Verizon's launch. We have yet to hear from AT&T about the LG G2, but seeing as how Verizon and T-Mobile's announcements are out of the bag, we could be hearing from AT&T anytime now.

As an Amazon Associate I earn from qualifying purchases.