T-Mobile Mandates New Smartphones with 2 GB Minimum Data Plan
T-Mobile USA has made some changes to its data plan requirements for smartphone activations requiring that new smartphones activated on or after October 10 be paired with a 2 GB data plan or higher. In the past, T-Mobile USA had offered a 200 MB data plan, but given the ease of consuming vast amounts of data while on the go thanks to T-Mobile's fast 4G HSPA+ speeds, the carrier may be positioning this move as being more consumer-friendly so that customers won't be throttled or be subjected to bill shock for overages.
News of T-Mobile's change in data plan requirements were reported by TmoNews.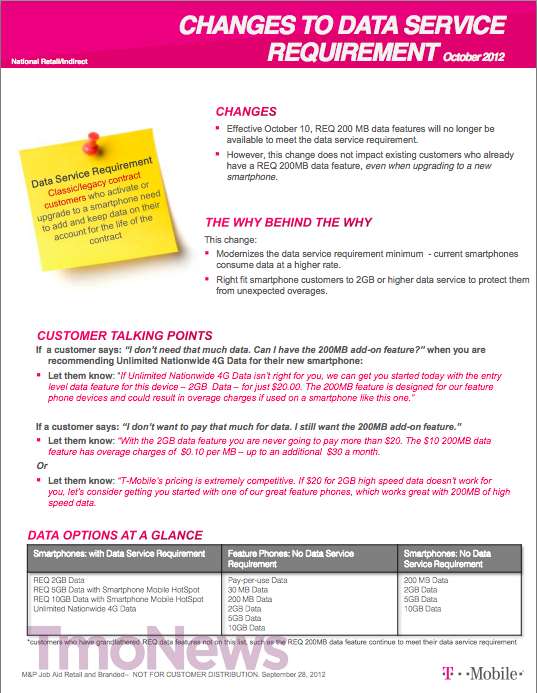 Many of T-Mobile's plans come with unlimited data. The carrier had recently added a truly unlimited data plan with no overages or throttling, similar to what Sprint is offering. However, in addition to the truly unlimited offering, even the 2 GB or 5 GB data plan on T-Mobile USA's network is 'unlimited' in that users will never get billed any overage charges for going over their set data allowance for the month. Instead, once they hit the set allowance, their speeds will be capped down to a slower 2G EDGE speed, which is akin to speeds of old dial-up connections.
Customers who are already on the 200 MB plan will have nothing to worry about as they're grandfathered in under the old system.
With studies reporting that many users consume on average of about 1 GB of data per month, 2 GB will give the majority of consumers enough data and a little cushion to stay within the 4G HSPA+ speeds before they get throttled.
While the change may mean that new customers may have to shell out a little money to get on the new minimum 2 GB data plan for smartphones, it's definitely a nice measure as smartphones today are more capable and users should truly exploit the potential of having access to information anywhere, anytime.

As an Amazon Associate I earn from qualifying purchases.