T-Mobile Radar 4G, HD7 to Get Update for Tethering, Other Features
T-Mobile USA is preparing an update for its HTC Radar 4G Windows Phone 7 device that would bring a number of new features to the smartphone, including the much requested Internet sharing capability known as tethering. Though tethering was baked into Windows Phone 7 Mango, Microsoft had left the inclusion of such feature up to carriers to enable, which once enabled would allow users to share the mobile broadband Internet data connection on their phones over WiFi to nearby devices.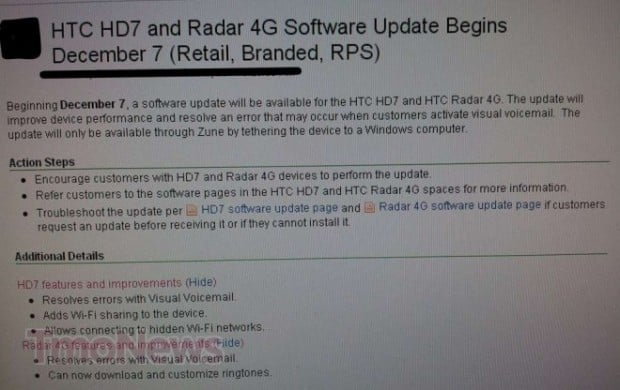 Users of the HTC Radar 4G would also be able to download customizable ringtones as well with the update, which is slated to start rolling out effective today.
Alongside the Radar 4G, the HTC HD7, another Windows Phone that was released last year, will also get updated to allow for tethering and to resolve issues with the visual voicemail system.
Via: TmoNews