T-Mobile Samsung Galaxy Tab 7.0 Plus 4G Does Not Support Voice Calls
There had been some conflicting information on whether the Samsung T-Mobile Galaxy 7.0 Plus with a SIM card for T-Mobile USA's 4G HSPA+ network will support voice call, and the answer is no. We have just received our unit of the Galaxy Tab 7.0 Plus for T-Mobile–the WiFi version was already reviewed–and we'll be posting our thoughts and opinions on how the 4G version is different than the WiFi version soon.
In our review of the WiFi version of the tablet, we had noted that Yahoo! News had reported initially that voice calls were capable: "What's more, the Samsung tablet offers voice and video call support without requiring the use of a headset." As it turns out, there is no voice capability and that information is inaccurate, at least for voice calls through T-Mobile's voice network. T-Mobile's version of the tablet remains a data-only device.
Users can attempt to make VoIP calls through third-party apps and services like Skype, however. In fact, like the Galaxy Tab 7 that the 7.0 Plus model replaces, there is no phone icon for T-Mobile's iteration.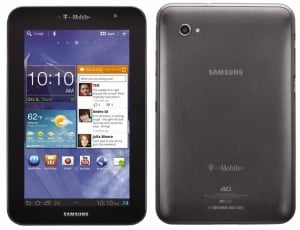 The original international version of the Galaxy Tab 7 did support voice calling, but that feature was stripped on variants for U.S. carriers.
Check back to GottaBeMobile soon for a review of the T-Mobile Galaxy Tab 7.0, a 4G HSPA+ Android 3.2 Honeycomb tablet.