T-Mobile Sony Xperia Z1s Review
In a crowded smartphone space, Sony is launching its best efforts to compete against Samsung's leadership in the Android smartphone space and Nokia's expertise in the smartphone camera department. Nowhere is this more apparent than Sony's latest flagship phones in the Xperia series. In the Xperia Z1s, Sony is bringing its best technologies–from display to imaging–all in a compact but powerful package exclusively for T-Mobile U.S.A. Not only will the Z1s compete against the Samsung Galaxy S4 Zoom, a 16-megapixel shooter with 10X optical zoom on AT&T's network, but it will also go against some of Nokia's finest PureView-enabled camera phones, like the excellent Lumia 1020 with a 41-megapixel sensor, and the newer Lumia 1520 and Lumia Icon, the latter a 20-megapixel experience for Verizon Wireless. So with views set purely on Nokia, can the Xperia Z1s muster enough courage to overpower the best of Nokia?
The Sony Xperia Z1s is an elegant phone that's sophisticated while being stylish at the same time. Packing in a quad-core Snapdragon 800 processor, one of the best CPUs on the market today, the Z1s could be considered the Ultrabook of smartphones–powerful, compact, highly mobile, and a productivity powerhouse bundled in fine design.
When you first look at the phone, you'll be greeted by an understated rectangular slab. On the front, the phone is mostly display as it's dominated by a large 5-inch high resolution full HD 1080p display that relies on Sony's Triluminos screen technology. Sony is borrowing the screen tech from its Bravia line of HDTVs and the company claims that the display renders cleaner images and texts while making colors brighter and more accurate to the eye.
In reality, it's Sony's marketing claims against rival Samsung's Full HD Super AMOLED panel on the flagship Galaxy S4 display, a phone also with a 5-inch screen. In use, I am not sure that Triluminos offered more value over existing standard IPS LCD displays or Super AMOLED panels on the market today though it did offer great, wide viewing angles on the phone.
Sony uses a thin slab-like design for the phone and the aesthetics is very similar to the glass-sandwich approach used on the Xperia Z1. However, to shave some weight and increase durability on the phone, Sony uses a plastic panel on the rear, rather than the glass panel. It's a similar design to Apple's iPhone 4 and Google's Nexus 4, but rather than a glass back panel, it's now a shiny plastic sheet.
While the move to plastic does reduce weight and still maintain the integrity of the old design, it also carries over some of the flaws of the Z1. Mainly, the Z1s is still a fingerprint magnet and if you carry your phone inside your pocket, the black slab will also attract a fair amount of lint and dust.
AS the Z1s continues Sony's tradition of making waterproof phones, the phone comes with a number of covered ports. You won't have access to the battery, but plastic flaps cover both the micro USB charging port and the micro SDXC card slot on the left spine of the phone. Additionally, Sony also included magnetic charging pins so you can use with an optional dock. The dock could be a good investment as the accessory will allow you to simply place your Z1s into the dock to charge without having to fumble with the covers for the charging port on a daily basis.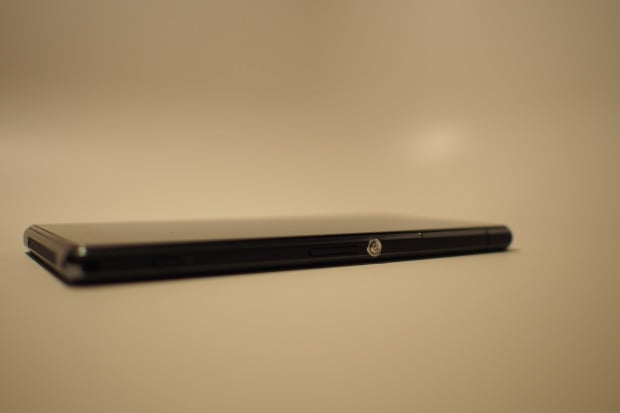 On the right hand spine, you have access to the micro SIM card slot as well as a trio of button in a design language that's similar to Windows Phone. Aside from the chrome power button, the other buttons are black and more discretely hidden. Here, you have physical buttons for power, a subtle volume rocker, and a dedicated dual-stage camera shutter button.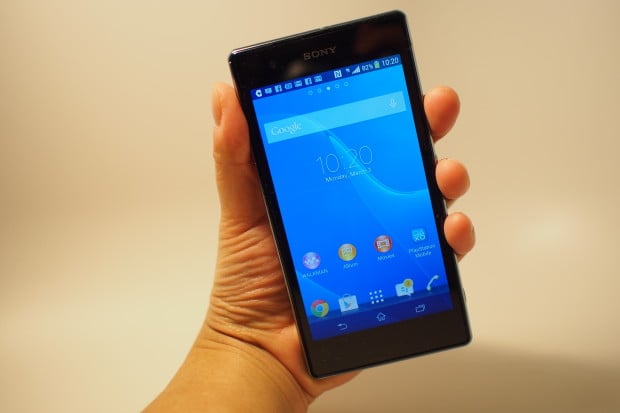 While it's nice to have the camera button to quickly launch the camera–Sony really does want you to use the camera on its flagship–experience with the buttons in my case were overall a bit more mixed. The camera button felt a bit mushy and in use, the proximity between the volume keys and the power button made it easy to accidentally press one instead of the other.
The downside of Sony's design is the placement of the speaker on the bottom edge. The bottom edge becomes the side edge when you hold the phone in landscape mode, which is a more natural way to hold the phone when viewing videos and movies. When you're holding the phone in landscape, your palms will likely brush up against the speakers and will likely muffle the sound output, so a bit of caution must be taken to ensure that sound properly passes through and you're not blocking the speaker with your hands in movie watching mode.
Where the Z1s shines is its camera. Sony has outfitted the Z1s with a backside-illuminated 20-megapixel Exmor RS sensor that's supposed to help the phone take better pictures in low light.
Additionally, to take on Nokia's use of ZEISS optics, the Z1s is using Sony's DSLR-grade G lens branding to give it some punch.
And while the camera does take good images with a lot of character, it didn't live up to the hype especially when compared against images taken with Nokia's and Samsung's shooters. Unlike Nokia's PureView camera phones, the Z1s doesn't have optical image stabilization and instead relies on a more inferior digital image stabilization. Though digital stabilization is still useful in low light, you'll still have some degree of camera shake that transfers to your photos, resulting in slightly less sharp images than had you had OIS.
Additionally, while the Lumia 1020 could save both a high resolution 41-megapixel image alongside a 5-megapixel oversampled image for sharing, the Sony camera will either save an 8-megapixel image in auto mode or a full 20-megapixel resolution in manual mode. You will have to choose one or the other here, and not both.
This isn't a bad compromise, however, as oversampling by choosing the 8-megapixel mode yielded some great images. Oversampling means that Sony is bundling nearby pixels in the 20-megapixel sensor together and through the use of intelligent software, noise is reduced and colors become more vibrant and accurate with increased dynamic range. Again, it's not a bad thing, but you do sacrifice the details that you would get with a 20-megapixel image. And though 20-megapixel may seem like overkill for many, it's a great way to crop into your pictures–essentially performing a digital zoom–without losing details in your crop.
In my experience with the Z1s camera, I found images to have a softer focus than on competing camera models, meaning pictures sometime look slightly out of focus. Additionally, colors in the capture appear washed out and not as accurate as on other camera phones from Apple, Samsung, and Nokia.
The biggest issue with the camera is noise, however, so images sometimes appear grainy when there isn't an abundance of available light. Hopefully Sony will be able to rectify its camera software through future firmware updates.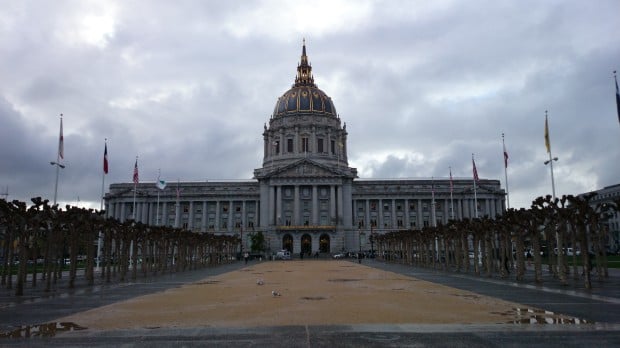 Where the camera really shines is how easy it is for consumers to use. Rather than  overloading the camera with features that many consumers likely would never use, Sony has chosen some interesting moes that could come in handy for many people.
There is a Superior Auto mode that could quickly choose how the camera performs given the situation. It will automatically adjust for sports mode if you're recording a fast moving child at a soccer game or switch to night mode if you're blowing out candles at a birthday party.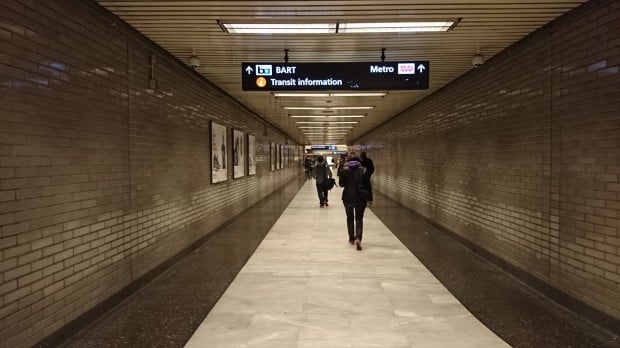 There's also an Info Eye mode, which is akin to Google Goggles. You can use the camera to learn more about the things around you by taking images of QR code, barcodes, book covers, and signs.
A Facebook Live mode allows users to broadcast videos directly to Facebook in real time while an AR mode overlays little objects and shapes–like a T-Rex and volcano if you're having a Jurassic Park-themed party.
A sweeping panoramic mode, a picture effect for adding filters, and a background defocus to add bokeh to your images to give them a more DSLR feel.
Keep in mind, however, that as great as many of those modes are, they only capture images at a maximum 8-megapixel resolution. Jumping into manual mode will allow you to go up to the maximum 20-megapixel resolution supported by the Exmor RS sensor, but you lose out on some of the cool tools, scenes modes, and effects.
And as there isn't a built-in OIS mechanism, 1080p videos recorded through the camera do suffer from some camera shake.
While we complained about the glossy plastic cover on the rear side attracting lint, its purpose is more clear when using the Xperia Z1s to capture more selfies using the rear 20-megapixel camera. Coupled with a very wide angle lens–almost as wide as the lens on the Lumia 1020–what you'll get is a shot that could fit more in the frame. This way, when you're doing a selfie or a group selfie like what Oscar host Ellen Degeneres did this year, you won't need super long outstretched arms to capture a larger party.
To power its powerful camera equipment on the Xperia Z1s, Sony has outfitted the flagship phone with a speedy Qualcomm Snapdragon 800 processor, a quad-core CPU that's one of the best on the market today. With the quad-core chip, things were speedy on the Xperia Z1s. Applications installed and opened quickly, transitions were smooth, and coupled with T-Mobile's fast 4G LTE network, webpages loaded fast. Speeds were fast and in testing the phone, and in testing the phone I found that the Z1s didn't stutter quite as much as Samsung's Galaxy Note 3 despite the fact that both devices share the same processor in the U.S. market.
Speaking of T-Mobile's 4G network, I was pleasantly surprised to see how much T-Mobile has expanded its HSPA+ and LTE footprints in and around Silicon Valley, California. Whereas I used to get 3G or even 2G EDGE connectivity in the recent past, now those areas are blanketed with HSPA+ and LTE.
The problem with T-Mobile's network really is when you step outside of LTE coverage. Even with the HSPA+ network that T-Mobile is marketing as fast, I found that connection speeds were slow and webpages would not load until after several refresh attempts.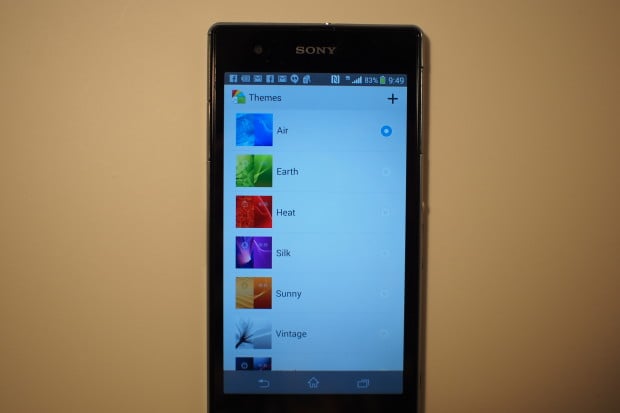 And though Sony didn't load up on customizations on top of Android like rivals LG and Samsung, the Xperia Z1s does provide an option to skin the overall Android experience with different home screens, themes, and colors. And though the tweaks are minimal, Sony manages to still give users the customizations that they seek where it matters most–in the camera department.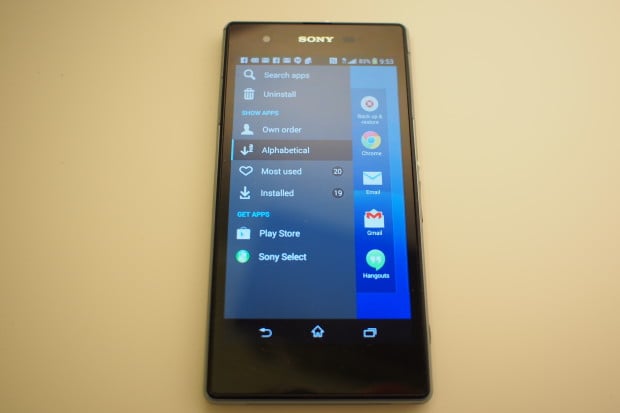 In addition to tweaks and enhancements to the camera, Sony has made it easier to add a theme and personalize the background and color of the Android interface. The outfit also added custom home screen widgets so you don't even need to unlock your phone, a move that resembles what Samsung had done with the Galaxy S4, also a quick way to rearrange your apps and organize your downloaded installations from the app drawer by swiping from the left edge towards the center of the display.
The best part about the Xperia Z1s is that battery life is great on the phone and I could generally muster a day and a half to two days without requiring a recharge.
Conclusion
In the Xperia Z1s, Sony has given T-Mobile a well-rounded smartphone that does a lot of things well. The Xperia Z1s is a powerful smartphone that doesn't skimp on features and attempts to be a jack of all trade with an elegant waterproof body, a capable 20-megapixel camera, and powerful guts to keep the whole thing running. Generally speaking, manufacturers often choose between function or form, and the Xperia Z1s has it all.
Still, while the phone may look attractive on paper, it doesn't necessarily excel at any specific thing despite Sony's excellent heritage with displays and cameras. The Triluminos display doesn't necessarily add more value to the package and while the 20-megapixel Exmor RS sensor sounds good on paper, it doesn't necessarily perform better than Nokia's PureView shooters nor a 13-megapixel Samsung Galaxy S4 sensor with less resolution.
That's not to say that the Xperia Z1s is a bad phone–it really is an excellent device, but you shouldn't walk into a T-Mobile store looking for one specific feature on the phone to buy. If you're eyeing the camera, there are better camera phones out there. If you're looking for the entire package, the Xperia Z1s will offer a lot of delight to users.