T-Mobile to Get HTC EVO 3D with 4G AWS Radio?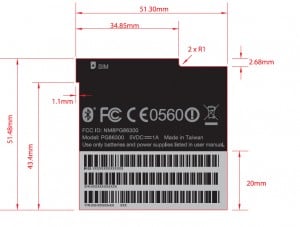 A version of the Sprint HTC EVO 3D, a 4G smartphone with dual-core 1.2 GHz CPU and a glasses-free qHD 3D display, was spotted going through the FCC as a GSM variant. The 3G CDMA/4G WiMax radio of the Sprint edition has been gutted for a GSM/HSPA+ radio that is compatible with T-Mobile's 4G network here in the U.S., but it's uncertain if the phone is headed to the fourth largest U.S. carrier after it makes a quick stop at the regulatory agency for approval.
If T-Mobile does get the phone, it would show that not only has Sprint lost exclusivity over the EVO branding internationally, but also in the U.S. When Sprint had launched the original HTC EVO 4G a year ago, the wildly popular phone was sought out by many across the globe, and HTC later released a variant of the device under the HTC Desire HD brand. With the HTC EVO 3D, the second-generation phone in the franchise, the device was recently confirmed as the HTC EVO 3D Plus for Europe and if it comes to the U.S., it looks like the franchise will not be limited to Sprint abroad or even in the U.S.
If T-Mobile adopts this device, it would be the third carrier to get a 3D-capable smartphone as LG is launching its Optimus 3D smartphone as the LG Thrill 4G for AT&T, which also utilizes a glasses-free 3D experience, albeit with a WVGA display rather than the higher resolution qHD screen on the EVO 3D.
Additionally, a T-Mobile EVO 3D would compete against the HTC Sensation 4G on the carrier. That device has many of the same specs as the EVO 3D, except that the Sensation 4G foregoes the glasses-free 3D display (although it retains the same high resolution qHD display) for an 8-megapixel camera rather than the dual-5-megapixel 3D camera on the rear on the EVO handset.
Even though the HTC EVO 3D variant may be going through the FCC, the device is still not guaranteed a release on T-Mobile USA's network.
Via: TmoNews

As an Amazon Associate I earn from qualifying purchases.