T-Mobile USA Caps Domestic Data Roaming on 'Unlimited Plans'
T-Mobile USA, the nation's fourth largest wireless provider and the carrier known for unlimited data plans with throttling in lieue  of overages, is now further restricting its 'unlimited' plan offerings when users roam domestically. Unlike international roaming, domestic roaming occurs when a customer stays in the U.S. but enters a geographic area where T-Mobile may not offer service or coverage and must rely on a partner, such as AT&T, to provide GSM coverage. With domestic roaming, T-Mobile is introducing a tiered data cap as it would likely have to pay costs to its roaming partners based on data used by its customers.
Under the new plan, which goes into effect beginning April 5th according to a leak from TmoNews, T-Mobile customers get either a paltry 10 MB per month all the way up to 200 MB per month of data while roaming domestically. After the customer has utilized all of the allotted roaming data, T-Mobile will shut off roaming service, but the good news is that there won't be any overages. Pay per use customers will have 10 MB of roaming and the lowest tiered data plans (between 1 MB and 199 MB per month) will be allocated 5 MB for domestic roaming.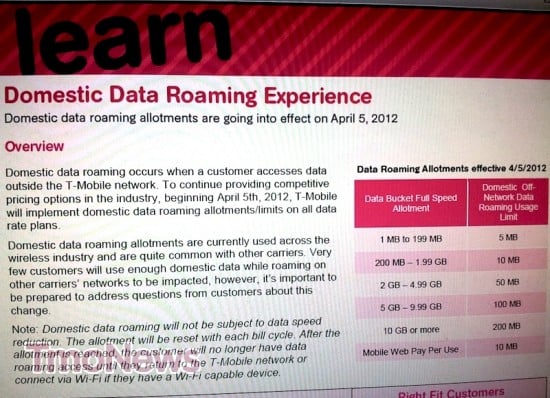 Domestic roaming has been under scrutiny recently, with Sprint, the last bastion of the major wireless carriers with truly unlimited data, stating that it would cap domestic roaming to just 300 MB per month, which comes in higher than T-Mobile's plan offerings. Additionally, Sprint is looking into shutting down physical operations in select regions and rely entirely on roaming agreements to 'build' its network in those areas in an effort to save on costs as part of the carrier's Network Vision strategy.

This article may contain affiliate links. Click here for more details.