T-Mobile USA Preps Accessories for Launch of Nokia Lumia 710
With the amount of evidence stacking up for the launch of the Nokia Lumia 710, a Windows Phone with more modest specs than the Lumia 800 (review), on T-Mobile USA's network, it appears that the carrier will be supporting the launch of the handset with a number of accessories.
The leaked accessory sheets show that T-Mobile will be carrying screen protectors, chargers, battery extenders and travel chargers, car mounts, and various earphones for the Lumia 710. Nokia's recently announced Monster earphones were not shown on that sheet.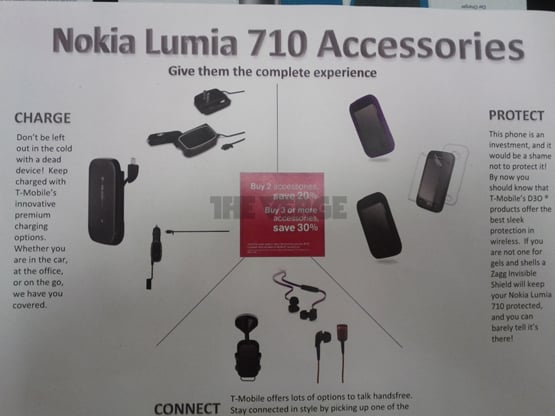 The handset is expected to be announced on December 14. In the past, Nokia has remained vague with its U.S. market launch intentions, only stating that Lumia will be launching in early 2012 without giving any indications of which models will be coming Stateside. The company had announced only two Windows Phone 7 devices in the form of the Nokia Lumia 800 and 710, though additional models have been leaked.
Via: The Verge

This article may contain affiliate links. Click here for more details.