T-Mobile Video Calling Release Arrives for Some
Yesterday T-Mobile announced a brand new feature for users on its network, and that's Video Calling. After making it official, the carrier has confirmed that Video Calling is available starting today for two devices that are receiving updates. Those being the new Galaxy Note 5, and the Galaxy S6 Edge Plus, with more devices coming in the near future.
Video calling joins T-Mobile's ever-growing list of "Uncarrier" options that the company hopes will have users leaving the other two big carriers, and going with T-Mobile instead. Things like WiFi calling, VoLTE HD calls, Advanced Messaging and more.
T-Mobile Video calling is exactly what you'd expect it to be, and looks to take on Facetime. There's no separate app or things to install, simply look up a contact and call them normally, or hit the video calling button and make a video call. It's that easy, but we have more details below.
Starting today an update should begin rolling out to the new Galaxy Note 5 and Galaxy S6 Edge Plus, and more in the future, that should enable T-Mobile Video Calling right out of the box. There's no extra apps to download, settings to change, or setup required. It just works.
As shown in the image above, just make call using the old way, or the new Video Call button, and that's all there is too it. User will have to be on a 4G LTE connection, and it will use your data limit, or WiFi is also an option, and probably the best route. You can also answer a video call with normal voice calling if you're not in 4G LTE or don't want to video chat, and if a connection is dropped the call isn't lost either. T-Mobile claims it can drop the Video Call down to voice, and let the conversation continue.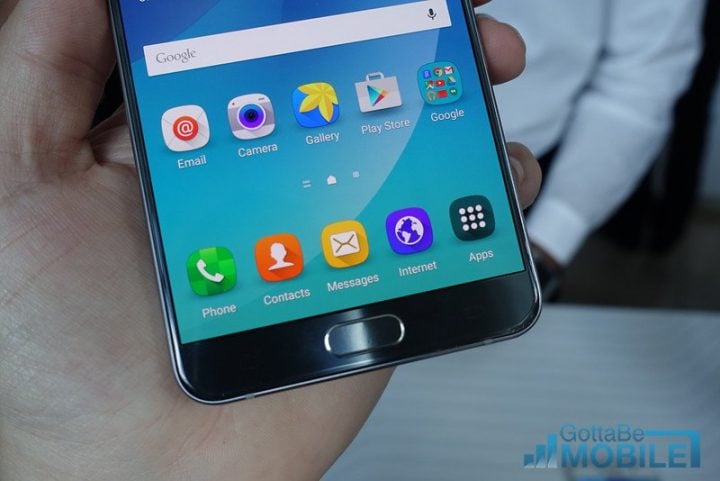 This new feature will be built right into the stock dialer on the two Samsung Galaxy devices mentioned above, and T-Mobile hopes to update more devices with Video Calling soon, and add more to the list later this year. We're assuming the new iPhone 6s should also have Video Calling.
Read: How to Setup Facetime
T-Mobile's new Video Calling feature is also taking on Google Hangouts, which is another excellent way to make video calls on Android or iOS devices, but being built right into T-Mobile phones gives it an advantage. It just works, and you won't have to download any apps.
The carrier claims that T-Mobile Video Calling can and eventually will work with other carriers, but for now Voice calls can only be completed between T-Mobile customers. We're not sure if other carriers will want to join T-Mobile, but the company does claim it should be able to work with Verizon, AT&T, and others.
So what other devices will be able to support this fun new feature? For now it's only the Galaxy Note 5 and Galaxy S6 Edge Plus, but T-Mobile has already confirmed the Galaxy S6 and Galaxy S6 Edge will get the Voice Calling update next week. Then, by the end of the year three more devices in its lineup will be Voice Calling capable.
While Video Calling may seem like a gimmick to many, this is an excellent way to communicate with friends, family, or loved ones in different cities or states, and T-Mobile is making it easier than ever for its customers. Be careful not to use too many calls and go over a 2 or 5GB data plan, as that could happen fast. Again, it works on both 4G LTE or WiFi, but a fast WiFi connection is recommended, for obvious reasons. We'll confirm once the Galaxy S6 update is live, and T-Mobile announces more devices with support for the feature.

As an Amazon Associate I earn from qualifying purchases.