T-Mobile's Lowest Tiered Data Plan Gets Metered for Overage Charges
Think you can escape the tiered, metered data plans from big carriers AT&T and Verizon Wireless? Think again as T-Mobile USA, the nation's number four wireless carrier, will switch its lowest data offering from a tiered, but throttled unlimited offering, to a tiered and metered data plan with overages. The new plan pricing would go into effect on August 14th, according to a leaked document obtained by TmoNews, and T-Mobile would charge a maximum of $30 or $35 depending if customers sign up for the Classic or Value plan respectively.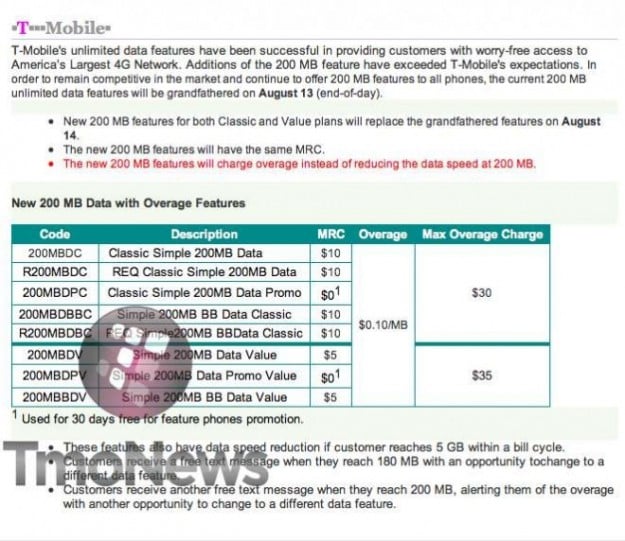 Currently, T-Mobile USA offers customers a choice of data buckets. What this net subscribers is that you get access to T-Mobile USA's fastest 3G HSPA or 4G HSPA+ mobile broadband data speeds for the bucket you purchase. If you go over your bucketed allotment, you don't have to worry as you won't be charged overages, unlike other carriers, but your data will be throttled down to much slower EDGE-like 2G speeds for the remainder of the month.
However, it seems that with the lowest tiered data plan at 200 MB a month, T-Mobile is re-thinking its strategy. Rather than offer free throttled-down data sans overages for those who subscribe to the 200 MB data plan and go beyond 200 MB each month, the carrier will charge $0.10 per MB for overages up to $30 or $35 depending on the plan.
Fortunately, customers who sign up before the August 14th date would be grandfathered into the old system where there are no overages and data throttling will occur.
It's unclear if T-Mobile's higher end mobile data plans will also be migrating to a tiered and metered usage policy in the future. However, as the 200 MB plan has moved in that direction, it might sway customers in signing up for a more expensive data plan to avoid overages and excess charges.
As the industry is moving towards the tiered, metered model for data plan, it's unclear how much longer Sprint can hold out with offering customers unlimited, unthrottled data access on its 4G WiMax network.

As an Amazon Associate I earn from qualifying purchases.