T-Mobile's Samsung Galaxy Tab Sign Up Form Online
If you are a excited about the Galaxy Tab and want to be notified when new information about T-Mobile's version, you might want to head over to T-Mobile to get signed up early. They have a sign-up for you to get information when it becomes available.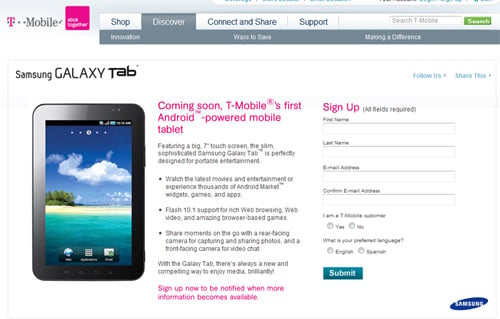 I am sure you all have heard about the Galaxy Tab right? You know, the Android tablet that people are going gaga over already. The one "iPad" Killer? Yes. That one. Aren't you all getting sick of everything becoming an iPhone or iPad Killer? Was the iPad the Tablet PC Killer? I think you see where I am going here. Anyhow, the Galaxy Tab is a 7″ touch screen tablet by Samsung that should hit every carrier soon enough. I hear that the T-Mobile version is expected before Christmas.
I know that many of the GBM staff has iPads already, myself included (it's for my kids really).  Any of you plan to grab one of these? I am seriously considering it, but it is hard to justify with the iPad already.

This article may contain affiliate links. Click here for more details.