T-Mobile's "UNcarrier" Plans Possibly Revealed In Leak
A new leak from TMoNews details both new Classic and prepaid plans T-Mobile will likely introduce next week when it details its "UNcarrier" initiative.
While T-Mobile corporate stores will soon switch over to the UNcarrier's Value Plans in the near future, TMoNews notes that its retail partners will still offer Classic plans. Classic plans make more sense for retail partners such as Best Buy and Target as they follow to same subsidies as other two-year contracts.
T-Mobile's Value Plans where users put down payments on phones won't work with the business models of its retail partners.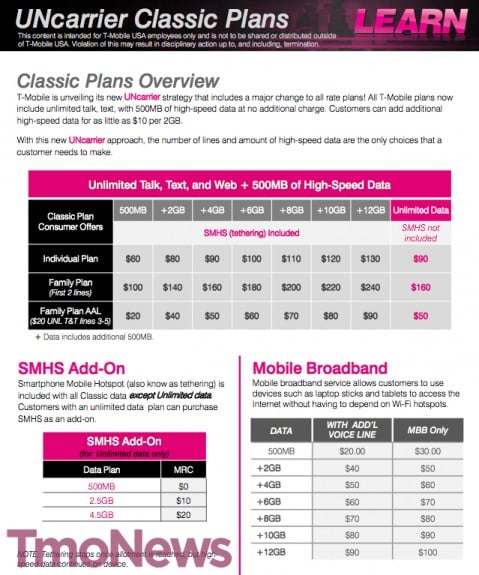 The new T-Mobile UNcarrier Classic plans start at $60 for individual users who want unlimited talk and text with just 500MB of data a month. All plans will include unlimited talk and text with users paying more for more data every month. For example, users who want 2GB of data a month will pay $80, and users who want 4GB will pay $90 a month.
Family plans follow the same rules starting at $100 for two phones with 500MB of data a month. The next family plan costs $140 a month for two phones with 2GB of data. Other plans cost an additional $20 for every additional 2GB of data users want ($160 for 4GB a month, $180 for 6GB a month, etc.).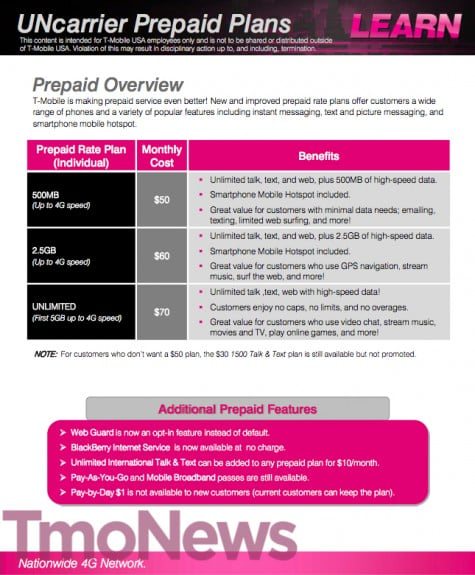 T-Mobile's UNcarrier initiative will also include new prepaid plans. Like the Classic plans, prepaid plans include unlimited voice and text, with users only paying for their data. Plans start at $50 a month for 500MB of data. Other tiers include 2.5GB of data a month for $60 and $70 a month for unlimited everything.
The leak also notes that users who don't want data can pay $30 a month for a "1500 Talk & Text" plan, though T-Mobile won't promote that plan.
T-Mobile will likely unveil all of these new plans during its March 26 event. At that same event the carrier will likely detail its Value Plans which have no contracts and let users put $99 down payments on phones they can upgrade at any time.

As an Amazon Associate I earn from qualifying purchases.