TabetPCReviewSpot Reviews the Toshiba Tecra M7 Tablet PC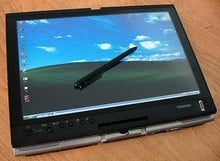 TabletPCReviewSpot.com is featuring a review of the Toshiba M7 Tablet PC, team authored by Jermaine Whitaker and Barry Doyle. As usual it is a very thorough review illustrated with pictures, a bevy of specs, an also benchmarks. They also map out their pros and cons of this 14 inch screen entry from Toshiba. A couple of points here:
They describe heat issues when the machine is used on battery. I look at comments like those differently these days after the problems with exploding batteries and the Sony recall. The semiotics surrounding that issue will probably forever alter some perceptions.

Toshiba still inists on loading up their Tablet PCs with

CRAPWARE

and they correctly point this out. I hope other reviewers of Tablet PCs (and any other computers for that matter) continue to point this out. Users don't want it.
By the way, Rob is planning an InkShow look at the Tecra M7 in a couple of weeks. Keep your eyes peeled for that one.

As an Amazon Associate I earn from qualifying purchases.