Tablet 2.0 Moniker At Least Acknowledges There Was a Tablet 1.0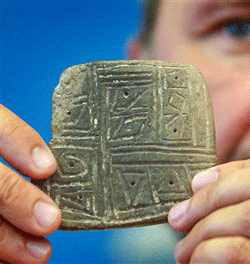 I think Rob Bushway is feeling much like I am watching all the Tablet mania unfold at CES2010, even if it is unfolding under the growing shadow of the mythical Apple Tablet that may or may not be unveiled on January 27. Both of us are sitting on the sidelines of this CES, and I'm not trying to speak for Rob, I feel like some old fart sitting on a rocker on my porch saying, "I remember back in the day…"
Well, enough of that. Shawn DuBravac, director of research for the Consumer Electronics Association has up and labeled this new tsunami of Tablets as Tablet 2.0. As I said in the title of the post, at least that acknowledges that there was a Tablet 1.0, but I think that will be short-lived if and when Apple makes its announcement.
CES2010 is still underway and there has indeed been lots of Tablet news, but we're seeing some interesting absences (so far) from major players from the 1.0 days. Toshiba and Fujitsu seem to be sitting on the sidelines for the moment, letting Lenovo (not an original player if you remember correctly,) and HP carry the torch. Rob reminds me that even with their tight focus on vertical markets Motion still has some juice, but Tablet 2.0 is all about the consumer not the vertical markets at the moment. Concepts pile upon concepts in this great rush and admittedly they do look pretty cool.

The craziness of Tablet 2.0 is that everything that can be held in your hand is being labeled a Tablet, if not a Slate. (Within a month or so, we'll hear about the discovery of the Slate as if it was something new.) As an old convertible Tablet PC guy, I remember fondly the debates about Slates vs convertibles, and like most of that old retinue, have cherished memories of the HP tc1000 series that was a hybrid with a detachable keyboard. It looks like Lenovo remembered that fondly as well with the IdeaPad U1 as well.
There's quite a bit of this story yet to play out in the short and the long term and while it may seem like calling 2010 The Year of the Tablet, and labeling the era we're in Tablet 2.0 fit the rush of the moment, I'm guessing all of what we are hearing and seeing now will pale in comparison once 2011 rolls around. Sooner or later someone is going to figure out that during the early days of Tablet (call it Tablet BC) Tablets needed a chisel. Otherwise they were just pretty rocks.


This article may contain affiliate links. Click here for more details.