Tablet Enhancements for Outlook 3.0 (TEO) Released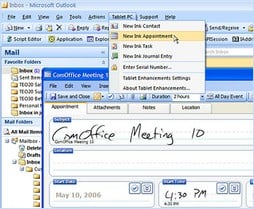 Einstein Technologies has released Tablet Enhancements for Outlook 3.0 (TEO). This must have Microsoft Outlook add-in for the Tablet PC is now available for download with a Free 15 Day Trial.
Tablet Enhancements for Outlook is an add-in for Microsoft Outlook® 2003 and 2007 that turns the popular personal information manager into a fully pen-enabled application on your Tablet PC, UMPC, or Origami device. TEO 3.0 replaces Outlook's standard UI with fully ink-enabled forms and lets you write and keep your notes in your own handwriting. No synchronization required.
For an Exclusive chat with developer Josh Einstein check out the GBM Audio Ink Show.
And of course make sure you download TEO 3.0 while you're listening to the Ink Show.