Tablet PC Artwork In The TabletScape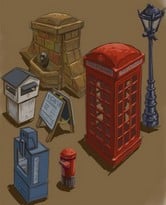 I am always attracted to Tablet PC artists and the work they do. Here are a couple of links to one new (at least to me) artist working in digital ink and a nifty little demo of ArtRage from Ambient Design.
ENB is new to the Tablet PC and has posted some work on The Last Outpost created on a Fujitsu Tablet PC and Alias Sketchbook Pro. Cool stuff.
TabletMinds links to an Ambient Design tutorial of ArtRage that, while not new, shows off some of the power of that program in creating a cartoon. Fun stuff.