Tablet PC Meetup at TechEd 2007 Today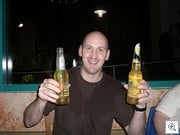 Looks like there is going to be a Tablet PC meetup at TechEd 2007. According to Tablet PC MVP Craig Pringle's blog (Craig's the one with the beer) A Birds of a Feather Meetup will take place today, Thursday, June 7 at 2:45pm in Room S331 and following that the meetup will take place. The Birds of a Feather session will be moderated by another fellow Tablet PC MVP Frank LaVigne. By the way, Frank has some great coverage of what's been happening on a Tablet PC front at TechEd on his blog.

As an Amazon Associate I earn from qualifying purchases.