Tablet PC MVP Marc Orchant's new Outlook 2007 book …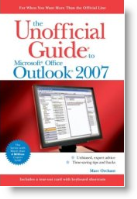 In the latest episode of the "On the Run with Tablet PC's #34″ Podcast, James Kendrick and Mark Orchant briefly discussed Marc's new book, "The Unofficial Guide to Microsoft Outlook 2007". If you have followed Marc's blogging and general online presence, you will know that he is an excellent technology writer, as well as all around good geek!
Marc knows this product, and as an extremely mobile worker and Tablet PC MVP, you can bet it will answer a lot of the questions you have as you move to this new version of Outlook 2007. Covering everything from the simple management of tasks to handling incoming email, Marc will take you on a fast track to learning a tool that is the basis of so many mobile workers day to day use of a mobile PC. There is a lot of new things in Outlook 2007, and I am quite sure will do a good job covering them!
I am looking forward to doing a nice review of this book as soon as Marc sends me the autographed (free) copy for my enjoyment! :-)
Head over to Amazon and preorder your copy.

As an Amazon Associate I earn from qualifying purchases.